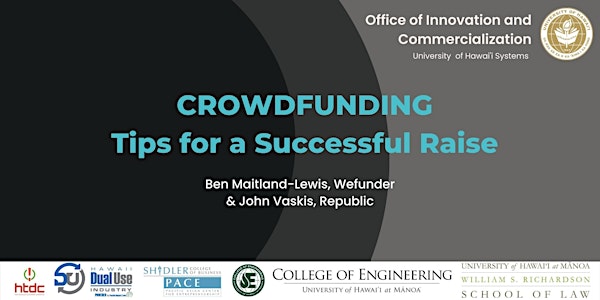 Panel: Secrets for a successful crowdfunding campaign - the Do's and Don'ts
Panel: Secrets for a successful crowdfunding campaign - the Do's and Don'ts for startups
About this event
Crowdfunding has become a top tool in the entrepreneur's tool box, not only as a means to raise capital, but also to build awareness and FOMO (Fear Of Missing Out). Savvy founders can strategically pair crowdfunding as a part of their seed or series funding. Part III of our Confessions of series include two popular and successful crowdfunding platforms.
PANELISTS:
Ben Maitland-Lewis - Founder in Residence, Wefunder LinkedIn - www.linkedin.com/in/maitlandlewis/
Ben is a lifelong entrepreneur with a passion for solving big problems and collaborating with amazing people. He has toured the world as a musician -- Built the first digital asset management (DAM) platform for the creative enterprise (sold to UMG) -- Built the worlds first roaming photo booth + pro photography platform (sold to Snappr) -- Y Combinator Alum , and is now on a mission to help epic founders raise capital and strengthen their communities with a #CommunityRound by Wefunder
John Vaskis, Head of New Business, Republic LinkedIn -
www.linkedin.com/in/johnvaskis/
John has an extensive career in sales and business development strategies and has helped companies to grow and expand in today's fiercely competitive, rapidly changing marketplace. Today he is head of New Business at Republic and helps companies grow their sales and market their share to new levels.
About Wefunder: https://wefunder.com/ Wefunder, we help anyone invest in what they believe in – to vote with their dollars on what our society should fund. As a Public Benefit Corporation, they've already helped thousands of founders secure funding, with a goal to fund 20,000 more founders by 2029.In 2021 alone, $236 Million was invested in startups on Wefunder, they are committed to educating new investors with plain language, in order to make investing more accessible and democratized, while nurturing founders with mentorship, community, and inspiration.The Wefunder ecosystem has deployed over $515 million in investments, has funded over 2K founders, created more than 29K jobs and has helped startups raise $5 billion after their Wefunder raise.
About Republic: https://republic.com/ Unicorns are startups that reach the valuation of over $1B. If you find and invest in one at an early stage, you could earn a significant return on investment. While no one can predict which companies will become unicorns, Republic gives you access to companies who have the potential to become one.Republic is a platform on which US-based companies — C-Corporations, LLCs, and PBCs, specifically — can raise up to $1.07 million over a (maximum) 12-month period (up to a maximum of $5 million total) from registered investors. Most companies crowdfunding on Republic use a financial instrument known as a Crowd SAFE. The Republic ecosystem has deployed over $900 million in investments, has supported over 600 companies, and boasts a community of over 2.5M users across 100 countries.