This event will be located at The Prescott Centennial Center located at 1989 Wineglass Dr. Prescott, AZ 86301
About this event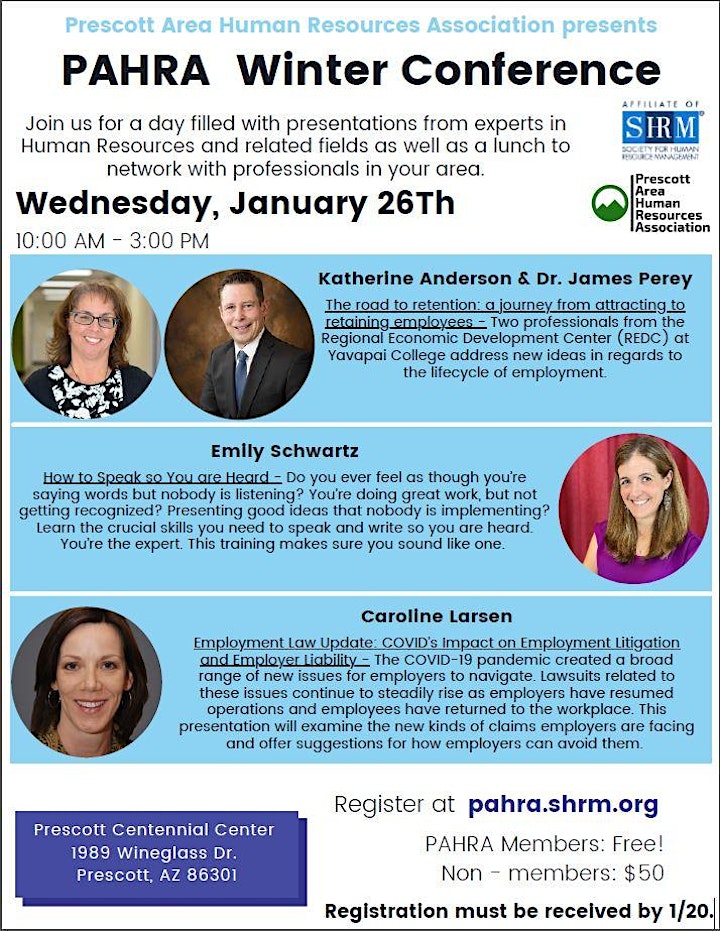 About the Event:
PAHRA Winter Conference - Presented by the Prescott Area Human Resources Association
Wednesday, January 26 from 10:00am - 3:00pm
Join us for a day filled with presentations from experts in Human Resources and related fields as well as a lunch to network with professionals in your area.
Guest Speaker List:
Katherine Anderson & Dr. James Perey
The road to retention: a journey from attracting to retaining employees : Two professionals from the Regional Economic Development Center (REDC) at Yavapai College address new ideas in regards to the lifecycle of employment.
Emily Schwartz
How to Speak so You are Heard : Do you ever feel as though you're saying words but nobody is listening? You're doing great work, but not getting recognized? Presenting good ideas that nobody is implementing? Learn the crucial skills you need to speak and write so you are heard. You're the expert. This training makes sure you sound like one.
Caroline Larsen
Employment Law Update: COVID's Impact on Employment Litigation and Employer Liability : The COVID-19 pandemic created a broad range of new issues for employers to navigate. Lawsuits related to these issues continue to steadily rise as employers have resumed operations and employees have returned to the workplace. This presentation will examine the new kinds of claims employers are facing and offer suggestions for how employers can avoid them.
This event will be held at The Prescott Centennial Center located at 1989 Wineglass Dr. Prescott, AZ 86301
PAHRA Members: Free!
Non - members: $50
Registration must be received by 1/20.
Organizer of PAHRA Winter Conference
The Prescott Area Human Resources Association (PAHRA) is an affiliate of the Society for Human Resource Management. Whether you are new to the HR field or have many years of experience, we are a local starting point for networking, information, professional development and continued support of excellence in Human Resources.