Description
Following the eye-opening gender pay gap reveal and the #MeToo movement, many industries and people are struggling with the challenge of – What now?
How do we move forward and ease tensions in the workplace, while laying positive foundations for a more inclusive, diverse, and equal future?
While some governments, industries, and companies are putting emphasis on structural or policy change, what can the rest of us do while we wait for those developments to trickle down?
Join us Thursday, 17th May as we examine common issues and look towards solutions. Our diverse panel will aim to provide a practical and actionable perspective, while sharing what their industries and communities are doing to improve the current situation.
This is an important discussion, one that is inclusive to every gender. So when you book your ticket, consider securing a second spot and bring a friend of another gender to join the conversation.
It's a difficult topic to tackle, but the more people involved, the more we will all benefit from awareness and can start to make a difference.
#JointhePACK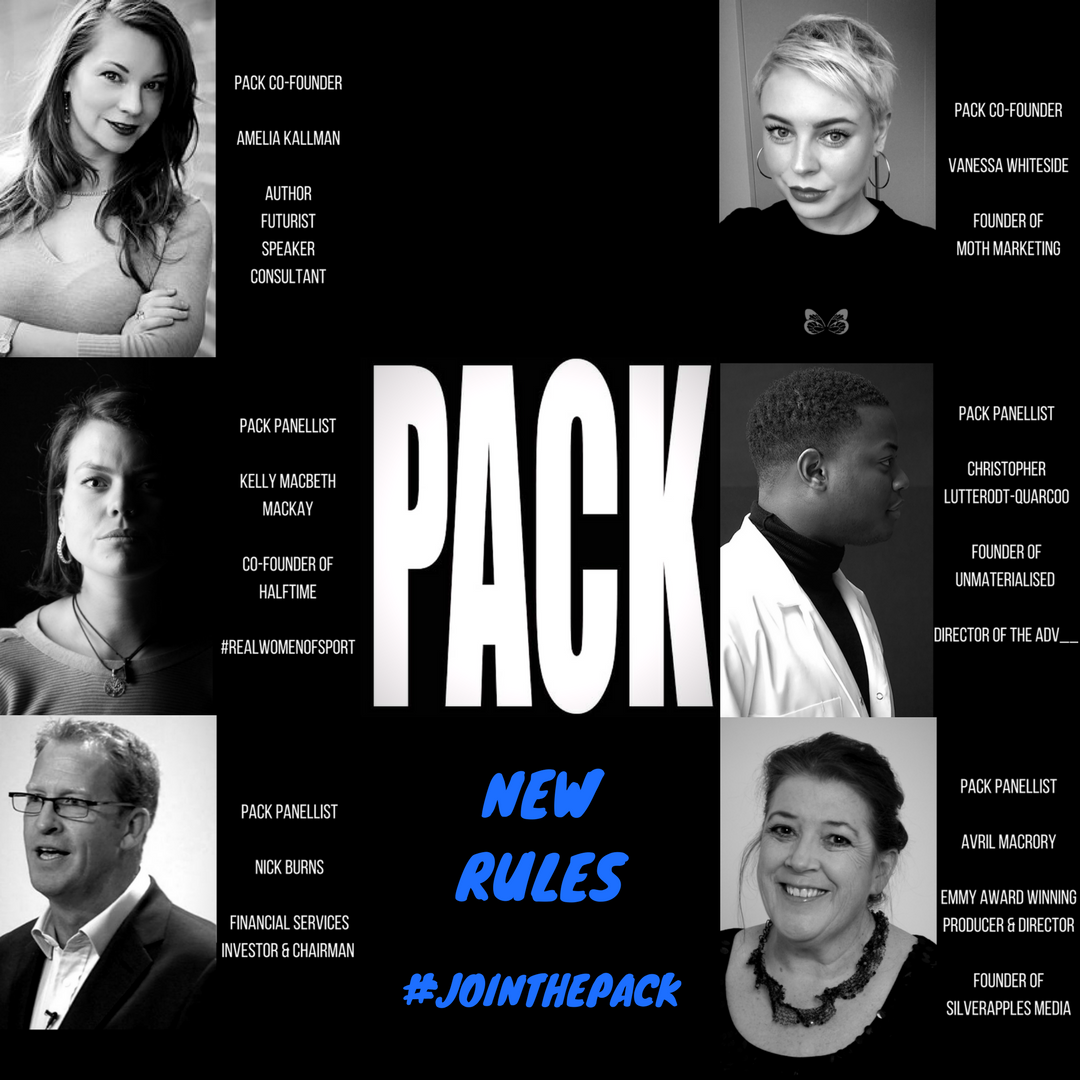 MEET OUR PANEL
Christopher Lutterodt-Quarcoo
Operating on the axis of design and politics; 'Cult Storyteller' Christopher Lutterodt-Quarcoo (CL-Q) is the Director of The Adv_ Immersive Forum, weaponising empathy. He is also the founder of the research archive Unmaterialised, using design to investigate political influence on global narratives, beliefs& systems. An internationally exhibited designer, writer, and global speaker, he is also the award-winning director of Hertz,Best Documentary at the BFI Future Film Festival, currently on BFI Player.
Nick Burns
Having spent 25 years in Financial Services, Nick was the former CEO of Axa-owned Bluefin Advisory Services. Following its sale in 2012 to the Capita Group, Nick became CEO and then Chair of Capita Employee Solutions. Having left Capita in 2015 and with a passion for people and technology; alongside wider consulting assignments in the Financial Services sector, Nick is now an investor and Chair of Engage Works Ltd - a creative technology agency which incorporates their workplace collaboration software, CoCreate. He is also an investor and Chair of Brand Biology, a customer experience and behavioural change training business. Nick also Chairs the Advisory Board of Neyber, a fast-growing financial wellbeing FinTech start-up, and Hybrid Legal, a fixed fee legal services specialist for start-ups and SME's.
Kelly Macbeth Mackay
Football coach, freelance writer, advertising student, and co-founder of Halftime London, Kelly is an active advocate for equal representation in sports. Halftime London is an initiative built by women for women, to help girls and women get involved in sport, remove any fear of inadequacy, and provide a platform for women in sport to be heard. Kelly coaches football as a way of teaching equality in sport to children and also runs beginners sessions for teenagers and women.
Avril MacRory
Moving from Head of Entertainment and Music RTE Ireland, Avril came to London to create the new music department at Channel 4 TV, where she worked as Commissioning Editor for Music programmes. She then moved to the BBC as Head of Music Programmes and Deputy Head of the Music and Arts Group, and headed up their largest, record-breaking, global TV project as Head of Millennium Events for 2000. Avril now runs the award-winning production company Silverapples Media Ltd. Recent work includes a major collaboration with the Science Museum and NASA for PBS and 4 seasons of Secret Diary of a Call Girl. Current projects include the Blyth Tall Ships 2019 excursion to Antarctica and The Third Law, a major drama series for UK and US broadcast. With two Emmys, A Prix Italia, and many other awards, Avril also served as President of the IMZ for 8 years - the international lobbying association for the promotion of Music and Arts across all global media, and is a founding member of the Women's Irish Network in the UK.
AGENDA
6:00 Networking, drinks and snacks
6:30 Introduction to PACK
6:45 Panel discussion + Q&A
7:30 Networking, drinks and snacks
VENUE
Plexal: Technology Innovation Centre London
www.plexal.com
Europe's leading new technology innovation destination for entrepreneurs and corporations to build business that improves lives.
Getting here: www.plexal.com/contact
If you're coming by public transport, we're a five-minute walk from Hackney Wick train station. Or you can hop on the free shuttle bus which runs from Stratford underground, train and bus stations until 10.30pm. There are two pickup points for the shuttle bus:
Bus stop E outside Stratford International
Bus stop X, just opposite Stratford City bus station
MEET PACK FOUNDERS
Vanessa Whiteside
A woman with many hats, Vanessa is Marketing Manager at creative content agency, Contented Brothers, Co-Founder of PACK, and Founder & Director of Social Marketing Consultancy, Moth Marketing. Vanessa has solid foundations within the creative, technology and innovation spheres, having previously worked as Head of Marketing at creative technology agency, Engage Works, and on the Innovation team at Cannes Lions International Festival of Creativity. She now specialises in marketing and communications, event production and creative content strategy across multiple sectors, from entertainment and gaming through to healthcare. Passionate about supporting and nurturing women within male-dominated industries, she launched PACK, a series of events and community to provide a place for conversation, opportunity and mentorship for women to connect and thrive.
Amelia Kallman
Amelia is a Futurist, Consultant, and Speaker. As an innovation and technology communicator, Amelia regularly writes, consults, and speaks on the impact of new technologies on the future of business and our lives. Curator of international tech labs and exhibitions, she works with start-ups and corporate clients to make connections and future-proof strategies. She's lectured at Cambridge University, written an award-winning book, and directed the first burlesque show in Virtual Reality. Her writing is often featured in WIRED UK, IBC365, and The Big Reveal, her monthly innovation newsletter.
​www.ameliakallman.com
Organizer of PACK: New Rules