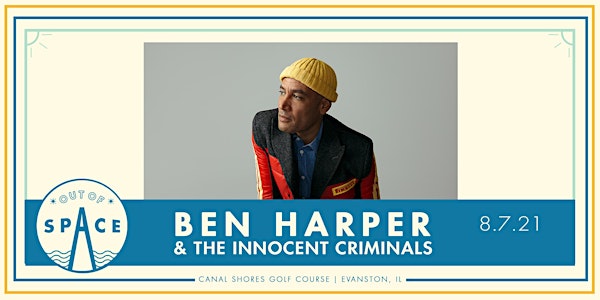 Out of Space 2021: Ben Harper & the Innocent Criminals w/ Jake Etheridge
UNDER 18 WITH PARENT OR LEGAL GUARDIAN
at Canal Shores
SPACE and the City of Evanston welcome Ben Harper & the Innocent Criminals at Canal Shores Golf Course
When and where
Location
Canal Shores Golf Course 1030 Central Street Evanston, IL 60201
Performers
Headliners
Ben Harper And The Innocent Criminals
More Performers
Refund Policy
Contact the organizer to request a refund.
About this event
COVID-19 INFORMATION
We have worked hand-in-hand with City of Evanston to craft the best possible protocols to keep all attendees as safe as possible and will continue to communicate up-to-the-minute information to ticket holders as it is available. Please be vigilant if you are not fully vaccinated, as there is still an ongoing risk to the community. The risk of exposure to COVID-19 exists in any large gatherings of people and infection can result in illness and death. Purchasing a ticket to this event implies your acceptance of all Federal, State, and Local laws and ordinances as well as the regulations laid out by the organizers of this event. After July 1st no refunds will be offered for this event. If the series is postponed or rescheduled due to health and safety reasons, all ticket holders will be given the option to keep their tickets for the new dates or request a refund.
By purchasing a ticket to this event you agree to the following:
1. I have been fully vaccinated against COVID-19 and will be able to produce proof. This means that I have received a 2nd dose of either the Pfizer or Moderna vaccine or the 1st dose of the Johnson & Johnson vaccine no less than 14 days before the concert date.
— OR —
2. I will receive the results of a COVID-19 test conducted within 24 hours of the concert start time and will be able to produce the test results. Rapid and at-home tests are permitted. Children who are not vaccinated will need to produce a test result as well.
We understand that personal medical information is sensitive and find these precautions to be consistent with local guidance and the policies of many major outdoor summer events in and around Chicago. Anyone holding a ticket who is unwilling or unable to comply with these regulations can request a full refund no later than July 1.
We will notify all ticket holders of the most current health and safety policies in accordance with CDC and local recommendations the week before the concerts.
ABOUT THE SHOW
GATES: 5pm   |   SHOW: 7pm
Canal Shores Golf Course is located at 1030 Central St, Evanston, IL 60201
PLEASE CLICK HERE FOR A DETAILED FAQ.
ABOUT BEN HARPER
Ben was raised in a hub of activists, poets, artists and of course great musicians. They included frequent patrons such as Chris Darrow, Leonard Cohen, Jackson Browne and Taj Mahal – the latter of whom gave Ben his first major tour and asked him to record Follow the Drinking Gourd with him (1990), all of which culminated in playing with Taj on Austin City Limits (which would become the first of five times Ben would be on the show).
Born October 28, 1969 as the sixties came to a howling end, and having been raised in such a potent community, Ben's music and career embodies that musical brilliance, open mindedness, lyrical honesty and abiding social activism of that pivotal time. With over 15 million records sold worldwide, the career of this multi-GRAMMY® award-winning musician, producer, activist and now, record label founder, spans decades, during which he has been established as a singularly powerful songwriter and performer with range across multiple genres with a rare ability to blend the personal and political.
After his successful tour and record release with Taj Mahal, Ben returned to California and in 1992 teamed up with childhood friend Tom Freund to record Pleasure and Pain. In 1993 Virgin Records offered Harper a worldwide recording contract and he released his debut, Welcome to the Cruel World in 1994. The album was created with musicians who would eventually become known as the Innocent Criminals (percussionist Leon Mobley, bassist Juan Nelson and drummer Oliver Charles). What makes the band so unique is that they come from different places musically and complement each other because of the different styles that they play. This led to a string of successful and critically acclaimed albums and the accolades poured in. Rolling Stone hailed his "jewels of unique and exquisitely tender rock & roll," while Entertainment Weekly praised his "casual profundity," and Billboard said his music "reminds us of the power and beauty of simplicity."
Many albums with various iterations of the Innocent Criminals followed including: Fight for Your Mind (1995); The Will to Live (1997); Burn to Shine (1999); Live from Mars (2001); Diamonds on the Inside (2003); Both Sides of the Gun (2006); Lifeline (2007) – for which he was nominated for Best Pop Instrumental GRAMMY® and Call It What It Is (2016).