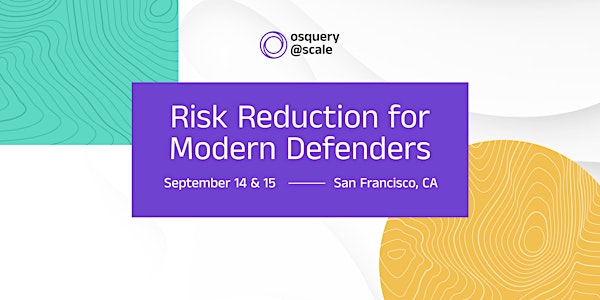 osquery@scale 2022: Risk Reduction for Modern Defenders
osquery@scale is a cybersecurity conference taking place on September 14th and 15th, 2022 at The Exploratorium in San Francisco.
When and where
Location
Exploratorium Green Street San Francisco, CA 94111
About this event
Join us this September at San Francisco's Exploratorium for a gathering of security leaders and practitioners. osquery@scale is a forum where attendees can network and explore how osquery is powering what's next in security innovation. The theme year is "how can osquery aid in risk reduction?". Most notably how does it help towards reducing risk from vulnerabilities and threats? You can expect great educational content based on security best practices that will help manage, scale, and improve osquery-powered risk reduction in your organization. Attendees can also expect fun networking opportunities in the innovative zero - emission Exploratorium, complete with interactive exhibits that showcase the power of observation. Oh, and great food.
Learn more at www.osqueryatscale.com
See here for negotiated-rate hotel rooms at the Omni Shoreham.
We are an inclusive event with a code of conduct that can be summarized with "be good to each other." Participants agree to our terms and conditions: osqueryatscale.com/terms-and-conditions