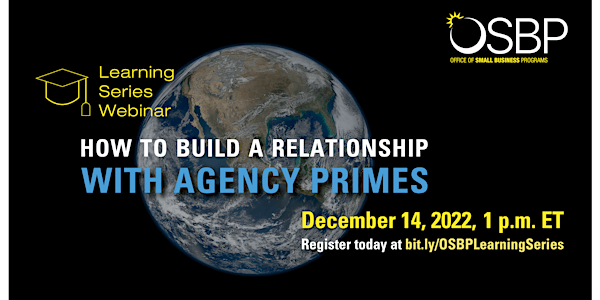 OSBP Learning Series: How to Build a Relationship with Agency Primes
Small businesses, we want to help you navigate the federal contracting process.
About this event
As NASA continues to innovate in the space exploration, scientific, and research industries, small businesses will be critical to its success. Each Center plays a unique role in cultivating the vendors needed to ensure success.
Are you interested in building a relationship with agency primes? You are invited to join us for the How to Build a Relationship with Agency Primes Learning Series. During this webinar, you will learn how to build a relationship with some of NASA's Top Prime Contractors. The NASA Center Prime Contractors will also focus on open opportunities currently available for business owners and entrepreneurs interested in partnering with NASA Primes. This is an excellent educational opportunity open to all businesses, small or large, and all socio-economic categories.
Log-in information for this online class will be sent after individuals register, and reminders will be sent the day before and the day of the webinar.
**Webinar speaker and topic are subject to change**