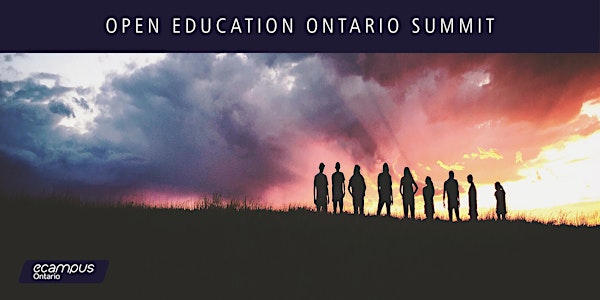 Open Education Ontario Summit 2018
When and where
Location
The George Conference Centre 80 Cooperage St. Toronto, ON Canada
Description
The Open Education Ontario Summit 2018 is an active and engaging networking and collaboration opportunity for educators, instructional designers, and librarians interested in open education. OEO Summit Participants will have a chance to connect with other open practitioners in Ontario, learn more about OE advocacy from local and international practitioners, strike new partnerships, address roadblocks, and discuss institutional and Ontario-wide OE advcocacy strategies. The Summit will provide a safe space to discuss and brainstorm future directions for OE work, and strengthen the virtual community of Ontario Open Rangers.
Agenda

1:00 PM: Welcome & Introductions
1:15 PM: Keynote Address, Billy Meinke "Letting the Work Speak for Itself: Openness as a Set of Values and Not a Destination"
2:15 PM: Workshops
Topic A: Growing Open Education Initiatives, Ali Versluis & Jessica O'Reilly
Topic B: Tools, Strategies, and Workflows in OER Development, Billy Meinke
3:00 PM: Paired Reflection
3:30 PM: Workshops (Topic A & Topic B)
4:15 PM: Paired Reflection
4:45 PM: Exploring an Open Advocacy Strategy for Ontario, eCampusOntario Open Education Fellows
Social to follow at the Dominion Pub and Kitchen.
Billy Meinke

University of Hawai'i at Mānoa

Open Educational Resources (OER) Technologist

Jessica O'Reilly

Cambrian College Teaching and Learning Innovation Hub

Instructional Developer

Ali Versluis

University of Guelph

Open Educational Resources Librarian



Billy Meinke

University of Hawai'i at Mānoa

Open Educational Resources (OER) Technologist

Jessica O\'Reilly

Cambrian College Teaching and Learning Innovation Hub

Instructional Developer

Ali Versluis

University of Guelph

Open Educational Resources Librarian