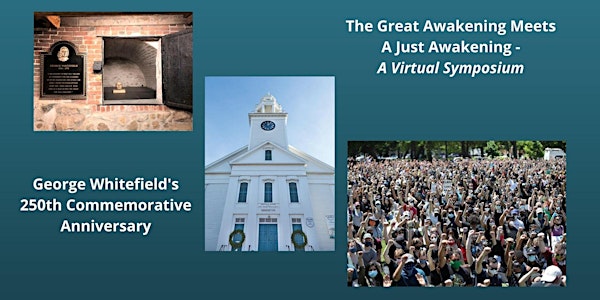 Online Symposium: The Great Awakening Meets a Just Awakening. Register here
Virtual symposium commemorating G. Whitefield; also examines the role of the evangelical church in racial justice. Click to register.
About this event
ALL EVENTS ARE BEING RECORDED AND UPLOADED TO OUR YOUTUBE CHANNEL HERE.
With a dynamic preaching style that thrilled his audiences, George Whitefield was heard by more people than anyone else of his time.
Part of the transatlantic spiritual revival known as "The Great Awakening" he preached a message of new spiritual birth and equality before God, which helped catalyze the American Revolution. Now considered "the Forgotten Founding Father" his preaching crossed barriers of race and class, but stopped short of embracing true social equality - a legacy that has haunted evangelicals for generations.
Old South Presbyterian Church, Whitefield's final resting place, is commemorating the 250th anniversary of his death.
In Sept/Oct the church is hosting a variety of online events with a slate of internationally recognized, racially diverse preachers and scholars to highlight Whitefield's influence on American history and the evangelical movement.This year also marks the opportunity to address the incomplete work of full racial justice to which we are just now awakening.
Please join us for this not-to-be-missed symposium to discover the essential intersection between personal spiritual transformation and a vision of equality that includes all God's children.  We're praying for a new revival: a Christ-fueled awakening to racial justice that honors Whitefield's passionate love for God and His people.
By registering you will receive email reminders and links for all events.
For more information, please see the events page.