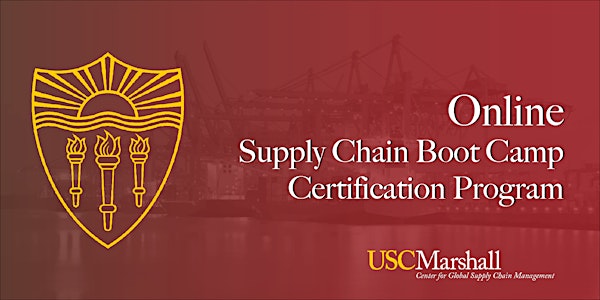 Online Supply Chain Bootcamp Certification Program
Introducing USC Marshall Center for Global Supply Chain's Management Online Supply Chain Boot Camp Certification Program.
About this event
Global supply chain is witnessing its transformation. Learn the academic foundation and in-demand skills of Supply Chain Management with real-world applications and earn your Supply Chain certificate in just a few months.
USC Marshall Center for Global Supply Chain Management Boot Camp is as online certificate program available for all levels. Participants will learn fundamental and necessary skills and explore the disruptions and advances in the supply chain arena.
The program will feature guest speakers from various industries such as Tesla, Starbucks, Amgen, and Amazon.
- Our schedule is flexible and accommodates working professionals.
- Our Certification courses are offered online in real-time that offers convenience and interactivity.
- Our online classes allow interaction with the instructor and attendees.
- We are committed to building up your skills.
*Complete all 6 courses and earn your Certificate.
Duration: 27 weeks (7 months)
Dates: October 2020 – May 2021
Speakers: Starbucks, Tesla, Performance Team, Amgen
Course 1: Supply Chain and Operations Management: (16 hours)
Dates: October 2020 - Saturdays: 8am to 12pm PST
In today's highly competitive and global environment companies do not compete. Supply chains and industries compete The Supply Chain involves the flow of materials, cash, information among all of the firms that contribute value to a product, from the source of raw materials to end customers and back. It includes the location and management of facilities that supply, manufacture and store materials and products, and the service providers that link and integrate them.
It is the most significant and critical component of most businesses, and accounts for the bulk of the people, cash and value-add in a company. The current coronavirus crisis and international political issues have emphasized this most dramatically. Supply Chains are the most discussed topic in business today.
This course provides an overview of supply chains and their key functions, the business context, financial impacts and levers, and describes the major challenges in managing an efficient supply chain. It also discusses various strategic and tactical supply chain issues such as distribution and fulfillment strategy, inventory strategies, outsourcing, procurement and supply contracts, the value of information, customer value and risk management. This course is a critical component of business education and effectiveness, and is directed at managers from across the organization.
Course 2: LSS Green Belt: (32 hours), 5 weeks
Dates: November 2020 – December 2020
This Lean Six Sigma Green Belt course will dive deeply into the universally-practiced process improvement methodologies of Lean Six Sigma, with both theoretical and practical components.
This course will first teach students the Lean Six Sigma methodologies, then have the students successfully implement process improvement on live projects they bring to the course. With the instructors' guidance, students will use data collection and analysis skills and enact quantifiable improvements for their chosen projects.
Course 3: Strategic Sourcing & portions of Sustainability and Corporate Social Responsibility: (20 hours)
Date: January 2021
Today's highly competitive, global and increasingly uncertain economic environment poses unprecedented challenges for companies and their supply chains. The integrated and end-to-end supply chain network is the real basis of competition, and its effectiveness, speed, resilience and agility are critical to success and growth.
Strategic Sourcing is one of the critical organizational and supply chain processes that drives the overall success of any business, whether large, small or start-up. It is the core function that is responsible for sourcing, selecting, developing and buying components, products and services from suppliers. The objective is to add maximum value to the buyer's products, services and competitive position, with the best cost and performance, and at minimum overall risk. It is key to successfully developing and executing a company's strategy.
This Course is intended for students who intend to pursue careers in Supply Chain & Operations, Marketing, Finance and Engineering. It will address the major aspects of Strategic Sourcing, including its role in the overall supply chain, the impacts and relationships with the company's financial statements, alignment with Corporate and Supply Chain Strategies, Supply Market Analysis, Supplier Evaluation and Selection, Supplier Performance, Risk, Sustainability and Corporate Social Responsibility. It will provide a Framework for Strategic Sourcing that students will be able to use and apply effectively in any organization
Course 4: Project Management: (35 hours)
Dates: February 2021
This course provides a foundation of Project Management processes, tools, and techniques. Students will learn how to successfully execute each phase of a project's life cycle from initiating a project to closing a project.
Students will receive a Project Management Certificate and 35 hours of project management coursework / education upon successful completion of this course.
Course 5: Supply Chain Finance: (16 hours)
Dates: April 2021
The course is designed to provide insights into the critical financial opportunities and challenges faced by supply chain professionals. It provides a unique view of finance within supply chain management. The supply chain typically holds 60 – 80% (and sometimes more) of a company's costs, while free cash flow from operations, operating margins and supply assurance are major indicators of shareholder value, business success and competitive sustainability. Today, companies do not compete – supply chains compete. While the focus of a company is usually (and traditionally) to integrate and optimize the flow of goods and information, the flow of cash and finance in the supply chain is typically fragmented.
The course will provide supply chain and operations executives with an integrated business and financial understanding of the operations of a company, and will address operational finance (the issues related to the financials and analysis of a company's operations, cash flow and cost management), and financing the supply chain & operations - the traditional and newer methods, their costs, benefits and risks.
Course 6: Emerging Technology in Supply Chain: 16 hours
Dates: May 2021
If you have any questions, please contact marviane@marshall.usc.edu.