Online: It's Your Time to Buy - First Time Homebuyer Info Session
Learn all about the homebuying process!
About this event
This class will take place online on Zoom. Please see the FAQ below for more information.
Join Texas realtor Samantha Chase and mortgage lender Ginger Carnright to learn all about the homebuying process!
Are you a first-time homebuyer? Or do you hope to be soon?
Join us to learn the ins and outs of buying your first home. Learn about the qualification process for first-time homebuyers and the role of the realtor in representing you.
Pre-registration is required! Please click "register" to reserve a free ticket.
***Note: This class will not qualify for training hours for childcare providers or parents so we will not be providing certificates of attendance.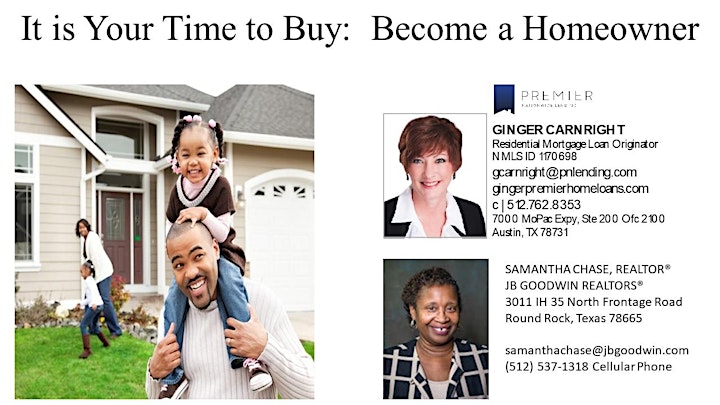 FAQ:
How do I use Zoom?
Please read our Zoom Info & Tips sheet here.
How will I get the Zoom link?
Eventbrite will send a confirmation message and reminder messages that include the link to the online event page. You will be able to start the Zoom workshop by clicking the link.
Other questions?
Feel free to email registration@georgetownproject.org. We're happy to help!
Organizer of Online: It's Your Time to Buy - First Time Homebuyer Info Session
A program of The Georgetown Project that builds skills and confidence in parents and childcare providers to create nurturing early environments important to the social, emotional and cognitive development of young children. Bridges to Growth offers parent workshops, childcare provider training, children's events, support groups, ESL classes and more.