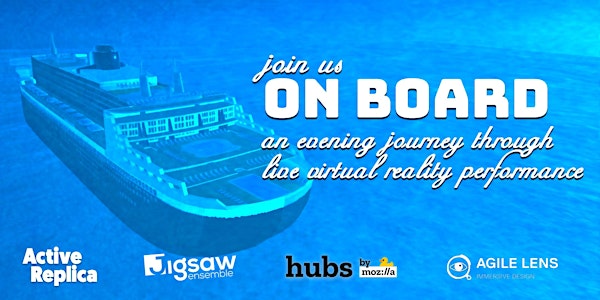 Multiple Dates
ON BOARD: An Evening of Short XR Performances
ON BOARD is a virtual reality short theater anthology, performed entirely in web-based VR accessible to anyone with an internet connection.
About this event
SHOW TIMES ARE EASTERN STANDARD TIME
On the one year anniversary of the global shutdown of the entertainment industry, Active Replica and The Jigsaw Ensemble present ON BOARD: An Evening of Short XR Performances produced, rehearsed, and performed entirely in web-based virtual reality, demonstrating several different forms and styles of fully-immersive, virtual theater production.
Audience members can attend using their computers, phones, tablets, or virtual reality headset. Once they've logged in, they'll find themselves in a virtual lobby where they'll be met by the house managers, who help them "on board" a virtual cruise ship in-character as pirates and yacht bros. Changing scenery and costumes with the click of a button, the audience journeys through a "dark ride" of short performances created by different artists around the world, each with their own unique approach to interactive technology and storytelling through theater, improvisation, and dance. The evening ends on a deserted island, allowing the audience to enjoy a post-show sunset while they discuss their reactions and feedback.
Tickets to ON BOARD are free, however the creation of new narrative experiences is not. While we want to make this work accessible to all, we are gently suggesting a donation of $25 for those who are in a position to give. Any ticket money will be split evenly among the artists, who have all agreed to bring their work to this project for free. We believe one of the major benefits of webXR is access and accessibility, and we hope you'll contribute whatever you are able so we may continue to bring these experiences to audiences in the future.
By default, the Pay What You Can Option requires some amount of money. For a totally free ticket, enter any amount and then use the discount code: FREE which will clear 100% of your ticket price.
ON BOARD performances include:
-----
Jettison by Brendan A. Bradley, Directed by David Gochfeld
Featuring: Brendan A. Bradley, Nicholson J. Carrillo, Nican Robinson, Ashley Clements
-----
This Land is I Land by Active Replica
Featuring: Dasha Kittredge, Ari Tarr
-----
A scene from The Play That Is Going To Change Everything, the world's first play generated by OpenAI's GPT-3, with supervision from human being Isak Keller.
Featuring Davis Brinker, Meredith Casey, Zach Christensen, Peter Glanville and Jin-young Pellow.
-----
STRINGS: Underwater
by Unwired Dance Theatre
Choreography and performance by: Clémence Debaig
SHOW TIMES ARE EASTERN STANDARD TIME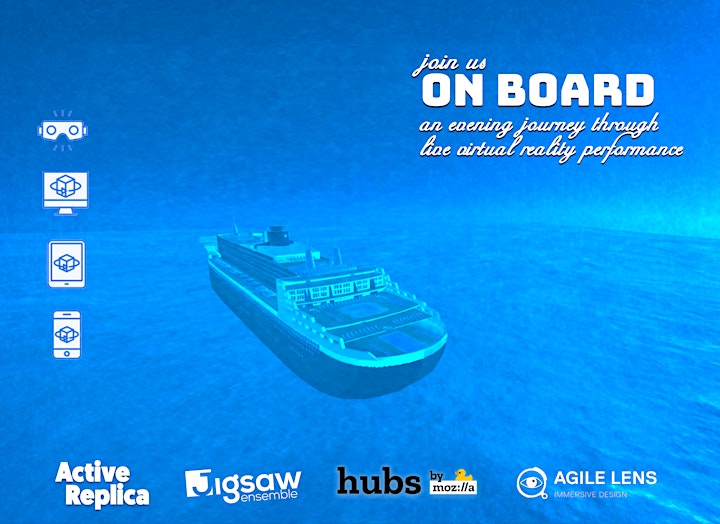 Organizer of ON BOARD: An Evening of Short XR Performances