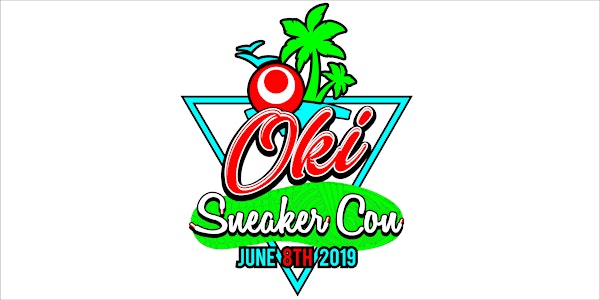 When and where
Location
Koza Music Town 1−1−1 コザ・ミュージックタウン3F Okinawa-shi, Okinawa-ken 904-0031 Japan
Description
[Japanese]
GetEmKicks 主催のオキスニーカーコン(OkiSneakerCon)が2019年6月8日土曜日、沖縄に旋風を巻き起こす!オキスニーカーコン(OkiSneakerCon)は、日本のスニーカーコミュニティを紹介するためのイベントです。注目したのは、スニーカーへの想いや それぞれ違ったバックグラウンドをもつ人々が、スニーカーという共通のものを介して集まれる場があるということ。買うのもよし、売るのもよし、交換もよし!世界各国からスニーカー、ストリートウェア、アート、音楽、ヘアスタイリングなど会場内は見どころ満載!素晴らしい出会いになること間違いなし!
このイベントは日本全国、全世界」より参加可能です。
イベント詳細:
開催日: 2019年6月8日土曜日
時間:  一般入場:午後12時~夜7時  /  VIP:午前10時〜午後12時 
場所: コザミュージックタウン3階
入場料:
VIP:60ドル (入場優先権、VIPネックストラップ、スニーカーコンTシャツ、一般抽選券5枚、VIP抽選券3枚、秘密プレゼント込み)
当日券:20ドル
12歳以下のお子様:10ドル
オキスニーカーコンはイベントへの寄付やサポートを募集しています。(寄付等イベントの運営を支援していただいた方にはビデオで名前が表彰されます。)
出展者申請スポンサー申請はこちら。
http://okisneakercon.com/products
インスタグラムでフォローする @GetEmKicks
※日本円でのお支払いは、支払日の円レートにより変動がありますので、ご了承くださいませ。
[English]
OkiSneakerCon presented By GetEmKicks will be taking Okinawa by storm Saturday June 8th 2019! This event is to showcase the multicultural sneaker community in Japan. Focusing on how people of all walks of life can come together through the love for sneakers. This is a Buy-Sell-Trade event but also a showcase for all ages! Sneakers, Streetwear, Art, Music, Barbers and much more will be in the building! With so many different vendors from around the country this is sure to be more than just an event but a tremendous experience!
---
INFORMATION:

Date of Event: Saturday, June 8th 2019
Time of Event: General Admission 12 PM - 7 PM / VIP Admission 10 AM - 7 PM
Location: Koza Music Town 3rd Floor
Entry Fee:
$60.00 for VIP Access (includes Tshirt, Lanyard, early access , 3 VIP Exclusive raffle tickets, 5 regular raffle tickets, and video recognition (Plus Secret Gift) included)
$20.00 for same day registration (1 Raffle Ticket Included)
$10.00 for children 12 years old or younger (1 Raffle Ticket Included)

Also, taking Donations/Contributions. Support the cause. (You will get a special shout out and be placed on our video credits)
---


Want to Become a Vendor or Sponsor?
http://okisneakercon.com/products
Follow Us On Instagram @GetEmKicks