Description
(Registration is now closed)
The first annual Open Compute Project (OCP) Taiwan Day will be held alongside Computex Taipei 2019 May 30 at the Taipei International Convention Center (TICC), Taipei, Taiwan. The OCP Taiwan Day will bring together key decision makers, executives, engineers, developers and suppliers in APAC regions where OCP is experiencing significant demand and adoption.
Hosted by: OCP Foundation, CIAT-OCP-T, ITRI, TCA
Sponsors: Delta, Edgecore, MiTAC, Wiwynn
____________________________________________________________________________________
OCP Taiwan Day is focused on helping potential customers, target users and partners better understand how Open Compute Project benefits datacenters, edge and other applications. Due to limited space we ask that each individual agrees with following rules before your registration:
EVENT REGISTRATION RULES:
Registering with a personal account is not allowed. Your company information is required for your registration.

For this reason, please register with your company email address.

Due to limited space, OCP reserves the right to limit to five attendees for each company. Applicants after 6th or onward may receive a further notice of registration cancellation. We apologize for any inconvenience caused.

If you have any question regarding registration, please email OCPT2019@opencompute.org and we shall get back to you within 2 business days.
__________________________________________________________________________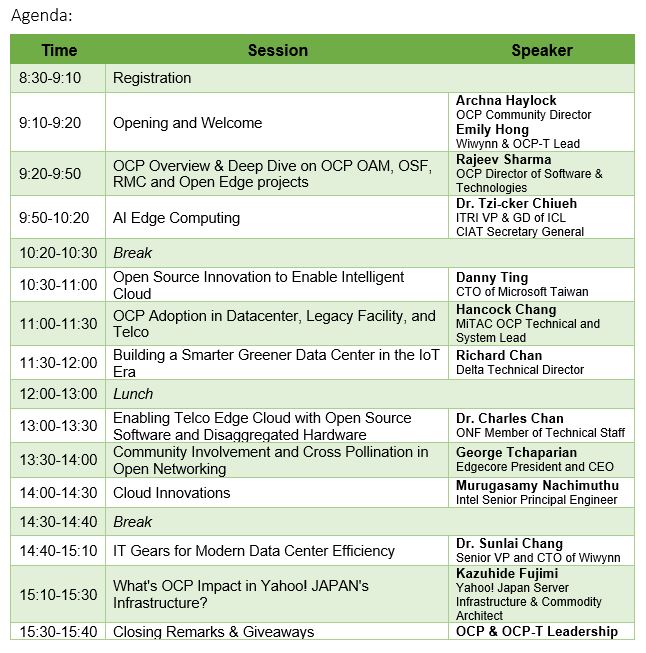 The evolution to 5G is confronted with the difficulty of increasing access network complexity. To tackle the challenge, Edge Computing is facilitated to distribute network functions. Its data caching additionally causes the ripple effect to reduce backhaul data traffic and improve end-to-end network performance. AI is as well adopted to automate operation and optimize resource allocation at the edge. Consequently, Edge Computing together with AI maximize network-wide efficiency and scale up 5G access networks. On the other hand, AI on the Edge takes the advantages of rapid response with low latency and high privacy to create high quality, intelligent services, which are critical to 5G use cases. To honor the promise, it is vital to have the right compute infrastructure in place, aligned to the right strategy.
Attendees can expect to come away with a clear understanding of the OCP community in Taiwan, how solution providers are engaged with fundamental of cutting-edge technologies, and how you can get more involved.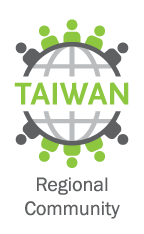 Session Abstracts:
OCP Overview & Deep Dive on OCP OAM, OSF, RMC and Open Edge projects - OCP Foundation:
There are many companies that are making different kind of accelerators to support todays AI/ML demands. We need to make a form factor and implement a system and this is where OAM comes into play. With OSF, one can create and deploy Open Source hardware platform initialization and OS load firmware and with RMC, one can manage the complete rack seamlessly. Also Edge is all about building ultra reliable experience for people and objects when and where it matters.
AI Edge Computing - ITRI:
A major promise of 5G wireless communications is its ability to support low-latency network applications such as AR/VR and connected vehicle. Edge computing is another key enabling technology for delivering this promise because it significantly cuts down the communication distance and thus communication delay between service requesters and service providers. In this talk, I will go over the edge computing technology landscape, and focus specifically on how to combine modern AI technology with edge computing to support low-latency applications that require real-time video analytics.
Open Source Innovation to Enable Intelligent Cloud - Microsoft:
We have been working on open source innovation to addresses the most pressing challenges for datacenter industry including a modular and globally compatible server design and universal motherboard with Project Olympus to enabling hardware security with Project Cerberus to a next generation specification for SSD storage with Project Denali. This year we're turning our attention to the exploding volume of data being created daily. The Project Zipline was announced in March, a cutting-edge compression algorithm powering interoperability across endpoints (edge to cloud) and optimized high bandwidth, low latency hardware implementation for the types of data we see in our cloud storage workloads. In this session, we will update the project status and share use cases from our perspective.
OCP Adoption in Datacenter, Legacy Facility, and Telco - MiTAC:
- The overview of OCP solution in Datacenter
- How the legacy facility/infrastructure could migrate to OCP solution
- What is the opportunity in telco application with OCP solution in future
Building a Smarter Greener Data Center in the IoT Era - Delta:
New technologies, such as the Internet of Things (IoT) and 5G communications, bring new challenges to IT infrastructure. Cloud and edge computing, as a result, have emerged as the latest requirements. As data centers are the backbone of IT operations, a modern data center can help your organization to save on costs, improve efficiency and become more responsive. How do you build a reliable and energy efficient data center while aligning your business' IT strategies? Here we wish to explore with you at OCP Taiwan Day "Building a Smarter Greener Data Center in the IoT Era". Join us for more market insights and our data center proposals.
Enabling Telco Edge Cloud with Open Source Software and Disaggregated Hardware - ONF:
The exponential growth of customer traffic makes existing telco business model difficult to sustain. Multiple major service providers have identified that CAPEX and OPEX rise as bandwidth demand grows but revenue doesn't increase at the same rate. At ONF, we commit to helping service providers overcome such challenges with open source software and disaggregated hardware. In this talk, we will introduce ONF solutions, elaborate on how we achieve the goal with a unique ecosystem and why OCP plays an important role in our solutions.
Community Involvement and Cross Pollination in Open Networking - Edgecore:
The explosive bandwidth demands combined with low latency response times being placed on carrier networks today are necessitating upgrades to the existing infrastructure from the Edge of the network flowing towards the Core. Technology upgrades such as 5G provides the promise of the massive bandwidth required for increased subscriber usage, next generation applications, and IOT devices. Architectural changes to the network such as placing compute and storage closer to the edge provides the promise of the reduced latency but requires rethinking of how and where these resources are deployed. Sitting at this intersection of this massive bandwidth increase and architectural changes are many open communities and vendors equipped with crucial offerings designed to satisfy these new network requirements while offering Capex and Opex reduction techniques. This presentation will cover a selection of products resulting from the work efforts from these open communities and where these products are incorporated into these next generation network upgrades.
Cloud Innovations - Intel:
This session will provide an overview of the Cloud related innovations covering Silicon, Platforms, Firmware and Connectivity including AI and Edge Computing for 5G. This session will also highlight partnership work with other cloud partners towards OCP. The session will also cover some of the work towards improving cloud system up-time with runtime firmware upgrade and runtime SMM reduction.
IT gears for Modern Data Center Efficiency – Wiwynn:
The 5G technology, powered by the low latency and high speed connection, will connect billions of devices and sensors. This technology will have a formidable impact on major industries in the form of smart homes, fully automated vehicles, artificial intelligence and robotics. The realization of 5G eco system requires similar efforts including client, communication infrastructure, to edge/regional/central data centers. The demands of each sector is no doubt boosted based Jevons Paradox.
While focusing on the high speed and low latency, the requirements of efficiency becomes critical and omnipresent. This includes but limited to power thirsty, thermal challenge, reliability & availability from central office all the way through edge, regional and central data centers. In addition to the intrinsic high speed and low latency features of our IT gears, how the efficiency are planned and implemented in IT gears and home grown technologies will be presented.
What's OCP Impact in Yahoo! JAPAN's Infrastructure - Yahoo! Japan:
Yahoo! JAPAN is the Top-Level Contents Service Provider in Japan. We have large services and large infrastructure as on-premises data center. Server team is always challenging for cost and technology for adopting server. We have adopted OCP Gears at our infrastructure in Japan's DC since 2016. I would like to share actual data which includes Cost Performance compared between OCP and EIA19. And also there are barriers to adopt OCP. I will introduce these barriers. I will talk about the expectations of OCP from the experience of adopting OCP for several years.