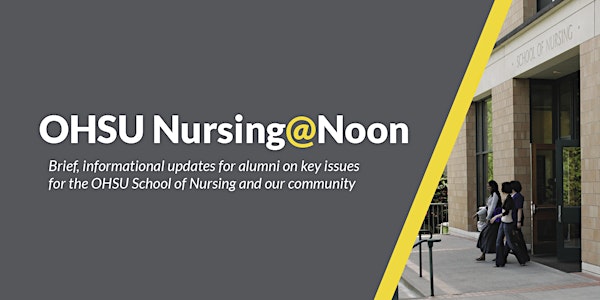 Nursing at Noon | The Inclusive Photos Project
Join us April 10th to learn about intention around diverse representation in learning materials within the OHSU School of Nursing.
By OHSU Alumni Engagement
Date and time
Starts on Monday, April 10 · 12pm PDT
About this event
This virtual event is presented by the OHSU School of Nursing Alumni Association.
The photos that health professions teachers show in class should represent the diversity of students, clinicians, and the patients they serve. Join Linda Felver, Ph.D., R.N., Associate Professor in the OHSU School of Nursing, as she discusses her work to improve access to photographs and videos that help students feel represented and welcome; learn to recognize conditions in skin of various colors; and develop increased awareness of issues related to health in people who are marginalized or face discrimination. Dr. Felver will be joined by her colleague Pamela Pierce, M.L.S., M.S., OHSU Digital Scholarship & Repository Librarian, who plays an important role in this work.
Linda Felver joined OHSU in 1986 and has received numerous teaching awards. Most recently, she received a Dr. Marsha Heims Teaching Scholar Award from OHSU School of Nursing (2021) and a OHSU Faculty Senate Collaboration Award (2022).
Pamela Pierce, M.L.S., M.S. joined OHSU in 2018 and has created a range of digital collections, including ones that spotlight the variety of student work and assist with facilitating Narrative Medicine sessions.
Linda and Pam's work has generated the OHSU Educational Use Photo Diversity Repository and two LibGuides that are available to anyone who has Internet access, with a goal of increasing the diversity of photos that health professions teachers, students, clinicians, and staff use in education, presentations, and other communications.
This event will be presented online via WebEx and recorded for subsequent posting here. Please email alumni@ohsu.edu with any questions.