North Carolina Central University - Campus Tour Experience
Description
"Spring" Campus Visit Information
Student & Family Visitor Information
Campus Tours are held Monday through Friday (begins Jan 22), 10:45AM and 1:45PM

We are unable to accommodate tour requests outside of our daily standard tour times. This includes Saturday and Sunday tour requests ;no tours are offered in the month of May and August.

The campus visit is a walking tour. Please be sure to wear comfortable shoes

FREE Parking is available in the Latham Lot (with printed parking pass provided by the Office of Undergraduate Admissions, displayed in dashboard) which is located next to the bookstore directly across from the track field.

Should you arrive 15-minutes or more after your scheduled tour begins, we reserve the right to cancel your tour and suggest a self-guided tour.

Late guests may not enter the presentation room once it has started.
Group Tour Visitor Information
Our standard group tour size is 75 students. This number includes chaperones.

Groups larger than 75 students must contact our office 7-14 days in advance to be accommodated. Please note that our maximum tour size is 150 students.

Due to spacing, large groups may not receive the digital PowerPoint presentation during their campus tour experience but will receive a Q&A with an admissions counselor.

Groups younger than high school age (9th - 12th grades) will not receive the digital PowerPoint presentation during their campus tour experience.

Unfortunately, we will have to offer a self-guided tour to groups that arrive larger than what has been confirmed.
---
Read Below for More Detailed Information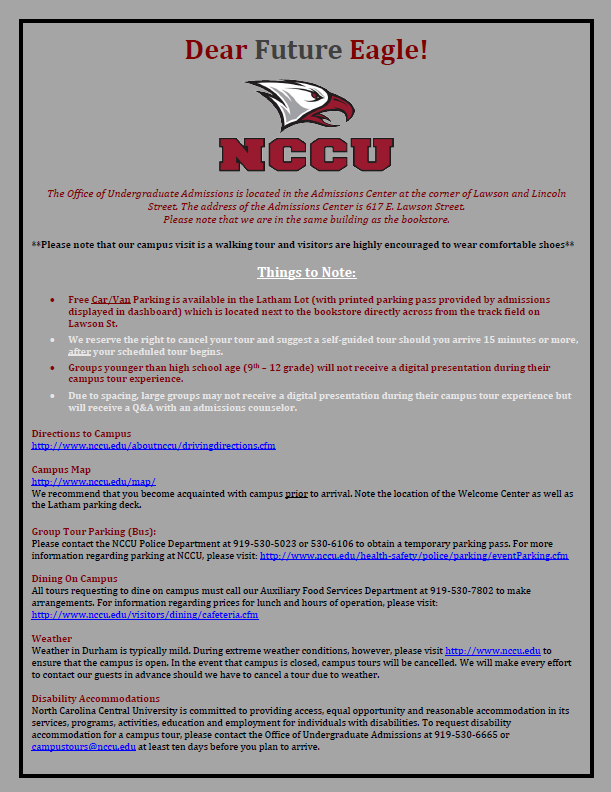 Dining On Campus
All tours requesting to dine on campus must call our Auxiliary Food Services Department at 919-530-7802 to make arrangements. For information regarding prices for lunch and hours of operation, please visit: http://www.nccu.edu/visitors/dining/cafeteria.cfm or email catering@nccu.edu
Questions? Please Contact Us.
De'Janel Henry , Campus Tour Manager campustours@nccu.edu , or 919-530-6665