NOCC Run/Walk FLASH MOB

Sunday, December 3, 2017 from 7:00 AM to 11:00 AM (MST)
Event Details
 THANK YOU FOR SIGNING UP TO PARTICIPATE IN THE FLASH MOB ON SUNDAY!  
FLASH MOB DETAILS
The flash mob will take place at the 9th Annual Valley of the Sun Run/Walk to Break the Silence on Ovarian Cancer  
DATE: Sunday, December 3, 2017 
LOCATION:
North Soccer Field, Kiwanis Park, 95 W Baseline Rd, Tempe. Park entrance is at W Baseline Rd and S Ash Ave. Google maps. 
TIME:
7:00 to 8:00 AM – Check in at the Run/Walk Registration Tent and receive your T-shirt, then head over to the Survivor Tent. Flash Mob participants will be issued a TEAL bandana.
8:30 AM (approx.) – Flash Mob begins (2 ½ minutes)
 WHO CAN PARTICIPATE?
All Run/Walk registered runners/walkers, sponsors, vendors and volunteers can participate in the Flash Mob. 
THREE FLASH MOB GROUPS
There are three groups of flash mob participants. Each will enter the routine at different times.
The groups are:
Core Group of Survivors– These survivors have practiced the choreographed routine. They will wear their TEAL Run/Walk T-shirts.
All Other Survivors – any survivor who has not had an opportunity to learn the routine, but will participate half way through the routine. Will wear TEAL Run/Walk T-shirts
Supporters – All others - runners/walkers, sponsors, vendors and volunteers. Wear run/walk t-shirt, team t-shirt or volunteer t-shirt.
 HOW WILL IT WORK?
 Twist & Shout – Get ready, when you hear the song Twist & Shout, the Flash Mob is about to begin. Approx. 8:30 pm.  The song will be played as part of the warm-up during the Opening Ceremonies.
 Michele – Our leader – will move onto grass, in front of stage. Core Group of Survivors will follow her.
Fight Song – will play and Core Group of Survivors will perform the choreographed routine (1:50 mins) SURVIVOR CORE GROUP  VIDEO
Survivor Song – will play and All Other Survivors will move in around the Core Group of Survivors. Watch for one bandana to be waved in the air. That is your cue, to move in toward the Core Group. Free form moves, high fives. See Supporter video for suggestions.  EXAMPLE VIDEO
Supporters – watch for your cue – two bandanas waved in air. You only have 30 seconds, so be sure to be close by, and move toward the survivors from all areas. Free form moves, high fives. See supporter video for suggestions. Check out 30 SECOND EXAMPLE VIDEO
 AT THE END OF THE SONG
SURVIVORS - Raise your right arm up in the air in a fist & look up.
SUPPORTERS - Raise your arms in the air - high and stretched out - and look up.
SEE GENERAL PLACEMENT DIAGRAM BELOW.
WILL FLASH MOB BE VIDEOTAPED?
YES! The flash mob will be videotaped with cameras on the ground, and an overhead drone.
So the more the merrier.
Thank you for participating in the flash mob, supporting the survivors and honoring those we have lost.
If you have not yet registered for the Run/Walk you can do so at http://runwalk.ovarian.org/phoenix
Questions... contact Sherry Baker 623 606-2522 or sbaker@ovarian.org
LET'S DO THIS!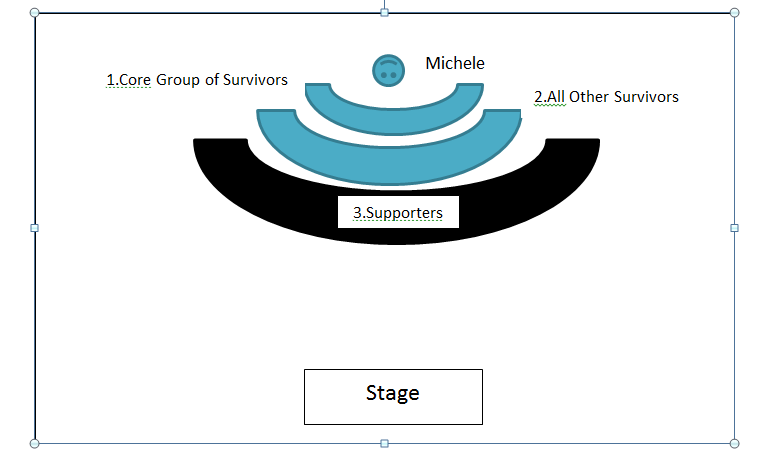 When & Where

Kiwanis Park, North Soccer Field
95 W Baseline Rd
Tempe, AZ 85283


Sunday, December 3, 2017 from 7:00 AM to 11:00 AM (MST)
Add to my calendar
Organizer
Phoenix Manager, National Ovarian Cancer Coalition