Description

March 8, 2019 at the Hilton Hotel & Conference Center.
Confirmed Keynote Speakers and Presenters:
Michelle Bart, NWCAVE President and Co-Founder and Rape Survivor
Rachel Haas, No More Campaign
Tina Orwall, Washington State Representative
Kym L. Worthy, Wayne County Prosecutor
Dr. Kathie Mathis, California Cognitive Behavioral Institute
Human Trafficking Task Force of Clark County
Anne McEnerny-Ogle, Mayor - City of Vancouver
Temple Lentz, Clark County Councilor
Eric Anderson, NWCAVE's Missing Children's Unit Director
Kay Vail, Human Trafficking Task Force of Clark County
Dr. Gloria Arroyo, Tristar Family Chiropractic and Wellness Center
Carmen McKibben, Vida Flare and Immigration Advocate
Mercedes Riggs, Immigration Attorney
Anjela Ford, Author, Disability Advocate and Survivor
Detective Dave Jensen, Vancouver Police Department
Jenny Thompson, Police Activities League of Vancouver
Amy Russell, Children's Justice Center
Melissa Schwartz, Joyful Heart Foundation / No More Campaign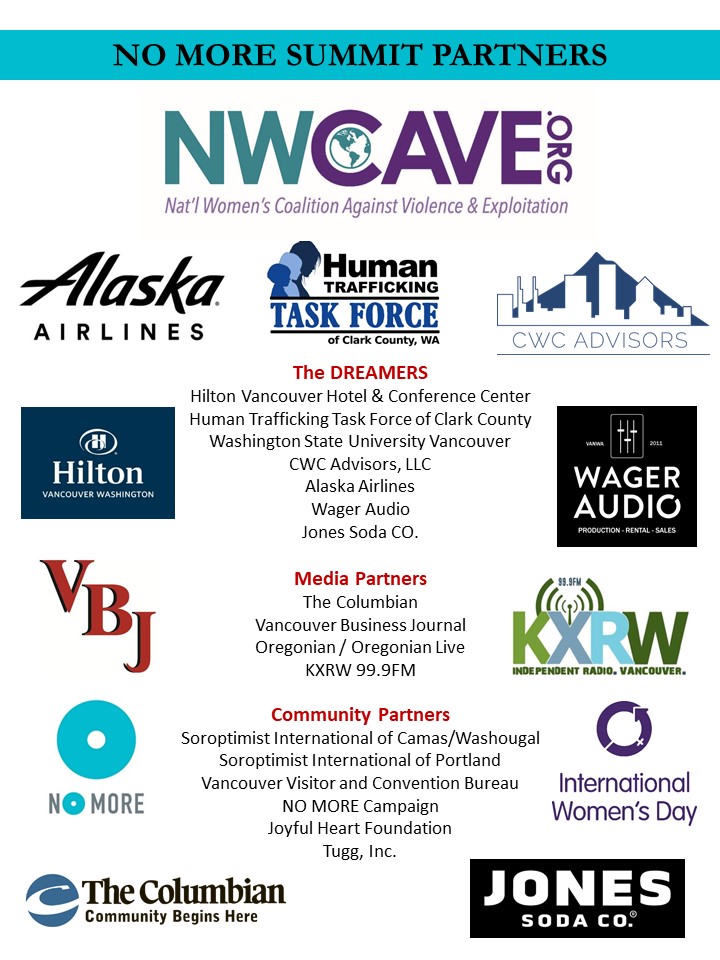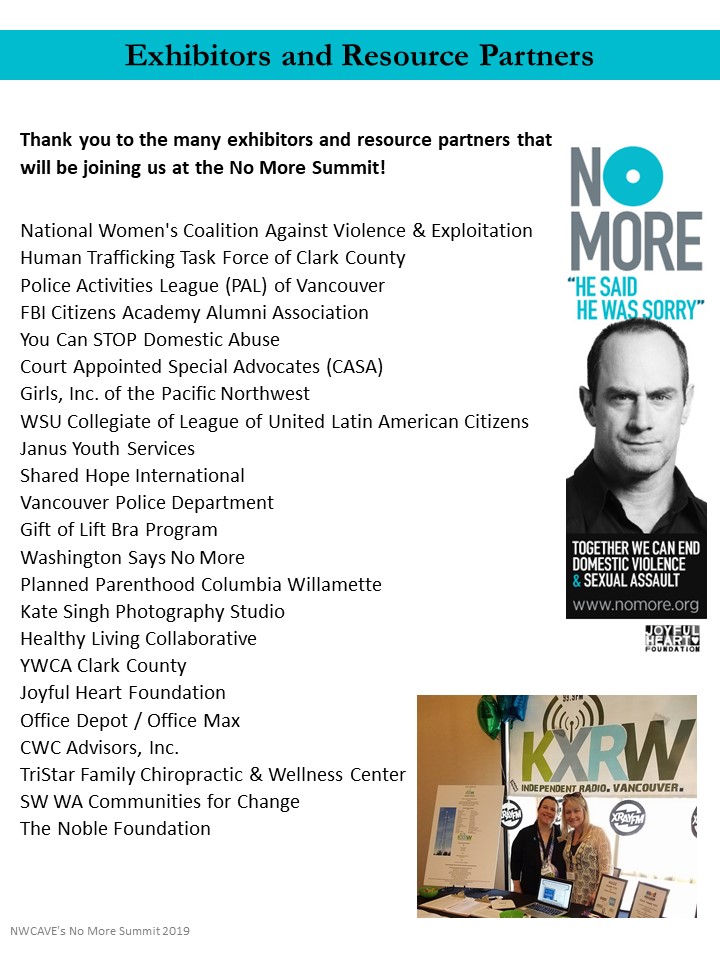 Learn more about our partners:
Organizer of No More Summit 2019
ABOUT US: The National Women's Coalition Against Violence & Exploitation (NWCAVE) is a volunteer operated 501 (c)(3) non-profit organization located in the pacific northwest of the United States of America. We continue working to inform, educate and prevent violence and exploitation against women and children nationally and internationally.

Whether human trafficking, domestic violence, sexual assault, sexual violence, stalking, bullying, hate crimes and all other forms of violence and exploitation against women and children, NWCAVE strives to keep the public informed and educated on how we can live in a more civilized society free of violence.

In order to achieve our mission and objectives we collaborate with other organizations, businesses, the public and media to continue to inform, educate and help prevent violence and exploitation in our local communities and throughout the world.