Online Stand-Up Comedy Showcase by Nightlife on Mars
About this Event
Since 2010, Nightlife on Mars has been producing live stand-up shows in San Francisco. Now that we're all stuck at home, they're taking the show named Best Underground Comedy Show by San Francisco Magazine and taking it online!
The show will be free on Zoom, with links sent out about an hour before the show starts.
For Saturday November 28th, continue giving thanks for this lineup:
Aivy Cordova (UCB)
Geneva Rust-Orta (Millennials Ruin Everything)
Ian Levy (Laughs Unlimited, SF Sketchfest)
Jeanette Marin (SF Comedy Competition)
Brought to you by your NOM Regulars
Joseph Nguyen (SF Punch Line, Kung Pao Kosher Comedy)
Natasha Muse (Night Train with Wyatt Cenac)
Red Scott (SF Sketchfest, Boars, Gore, and Swords podcast)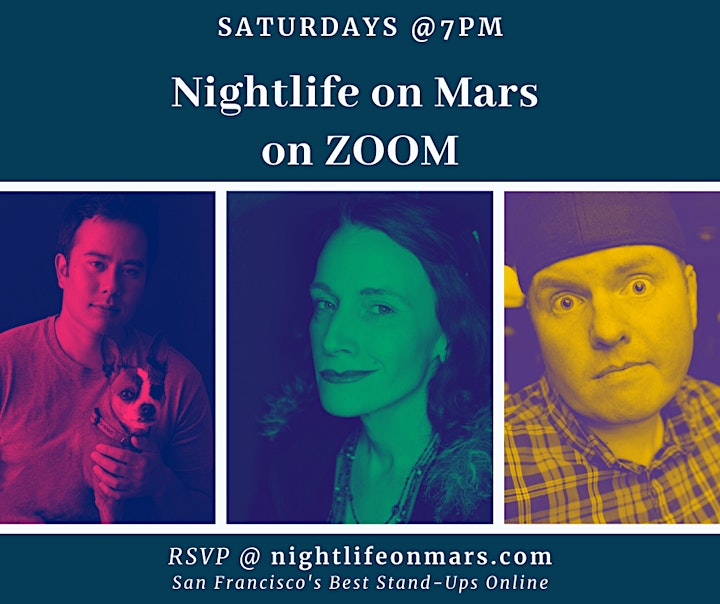 You might be wondering: how could something so good be free?!?!
You will have the option to send us tips via Venmo, PayPal, credit card, Apple Pay, and Google Pay. Information for that is available at tips.nightlifeonmars.com (which we'll remind you about throughout the show). Tips will be split among the performers and used to cover costs like paying for a fancy Zoom account.