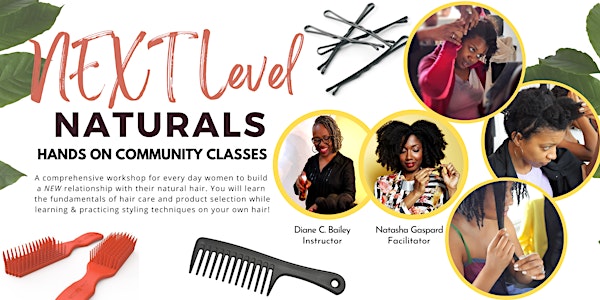 NEXT Level Naturals: Hands On Community Classes
Say goodbye to frustrating wash days and failed hairstyle attempts! Register for NEXT Level Naturals: Hands On Community Classes!
When and where
Location
81 Willoughby St 81 Willoughby Street Brooklyn, NY 11201
About this event
NEXT Level Naturals Hands on Community Classes are back! Join us for the first class of the season on March 26th in Brooklyn, NY! This comprehensive workshop is designed to teach women how to wear their natural hair with confidence which comes from combining knowledge with hands on skill.
About the Workshop
This day-long workshop will be an immersion into the Foundations of Natural Hair Care which will include an overview of hair history, hair theory along with hands on techniques for achieving healthy hair! The intimate setting of maximum 30 participants will ensure personalized guidance and instruction. Hands on means you will be learning these techniques by working on your own hair! In this class you will be seated at your own station as you will follow along with demonstrations led by Diane C. Bailey on live models! There will also be additional natural hair stylists to assist with any questions and techniques.
In this class you can look forward to:
* Building your confidence in learning the characteristics of your unique texture
* Learning improved at-home maintenance regimens, for daily, weekly and monthly hair-care.
* Personalized consultations with Diane C. Bailey
* Learning to create textured styles for work and play [Double strand twists, flat twists and Bantu knots]
* A lively discussion unpacking the many myths and misconceptions about natural hair.
* Creating manageable hair goals and expectations for healthy hair
* Learning how to select and use hair care and styling products based on your hair type
* A dynamic 'Hands on' experience.
* A recommended list to build your essential 'natural hair kit' of useful tools and 'must have' hair products to help you along your hair journey.
* Fun games and fabulous giveaway prizes.
_______________________________________________________________
Location: NY Beauty Suites, 81 Willoughby Street, Downtown Brooklyn
NYBeautySuites is the first flexible workspace for state licensed and insured beauty professionals in New York City. The NEXT Level Naturals Hands on Community classes will take place in their training facility
Date: Saturday, Mar 26, 2022
Time: 10am-3pm
Lunch will be provided (Vegetarian)
Price: $249 Regular
EARLY BIRD Special: $175 (until Feb 3, 2022)
**IMPORTANT**: By registering/purchasing a ticket for this class agree to the COVID following required guidelines regardless of your vaccination status:
All attendees must wear a mask during the duration of the training
Attendees must adhere to the social distancing guidelines while inside the training facility
*Note: In the event that a registrant is not able to make the class because of an illness, they will receive a voucher for the next class
About the Facilitators
Diane C. Bailey is an award winning Master Stylist and pioneer in the natural hair industry with over 40 years of experience in providing chemical free services for textured hair. Not only has she written the first ever textbook: Natural Hair and Braiding by Milady she assisted in the development of the country's first natural hair care license in New York State. As a former Shea Moisture beauty ambassador Diane's work extended around the globe with promoting the beauty and versatility of natural hair. Her mission is to demystify and create systems for everyday women to begin to bridge health and wellness into our concept of natural beauty.
Natasha Gaspard is an Emmy award winning television producer and the founder of Mane Moves Media, Inc. a media production company created in 2009. Natasha collaborates with professionals in the natural hair industry to create lifestyle content highlighting the intersection between natural hair culture and identity. As a long time natural hair advocate, Natasha also uses her platform to highlight solutions and create opportunities for connection around natural hair, beauty and wellness for black women worldwide. It is Natasha's mission for every woman to love their natural hair in all its glory!
Invest in yourself in 2022 and take your Natural Hair to the NEXT Level with this ultimate DIY hands-on hair workshop!
Registrants will receive a welcome email with more information and preparation instructions at least 4 weeks before the scheduled class!
Take a look at the recap of the very first NEXT Level Hands On Workshop to get a glimpse of what's in store!