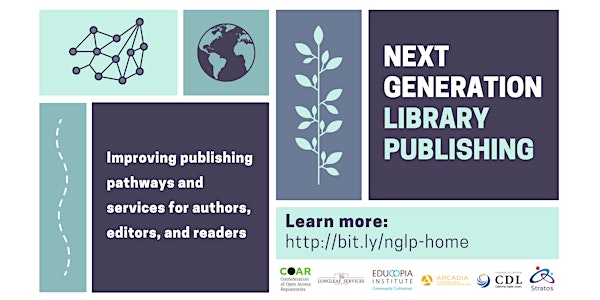 Next Generation Library Publishing Community Forum
NGLP Community Forum: Sharing our progress and opportunities for involvement
About this event
Over the past two years, our team has been building a suite of tools and resources that put libraries at the forefront of transformative change in scholarly publishing. Our project takes a holistic approach to reenvisioning publishing, simultaneously architecting new software tailored to the unique needs of library publishers and designing the business models, values-based assessment frameworks, and pilot implementations that bring our code to life.
At the community forum, we will introduce two new software components we are building to fill gaps identified through extensive community outreach and research. You'll learn about the Web Delivery Platform (WDP), a flexible, modern, front-end display platform that elegantly showcases a range of content, from journals to ETDs, aggregated from upstream content systems like Janeway and DSpace. You'll also hear about our Analytics Dashboard (AD), a feature-rich platform that allows you to explore usage and workflow data aggregated from multiple sources and presented in dynamic visualizations.
We'll share details about our three pilot implementations of these components, which bring together multiple service providers to collectively build and maintain software and service models that align with the needs and values of library publishers. We invite you to help us fulfill our goal of designing community-centered software solutions by providing your thoughts and feedback on our work so far, and our near-term directions.