Description
The New Normal Comedy Show celebrates comedians who are women of colour, the LGBTQI2SA community, Immigrants, abilities and allies. This show sells out each month and encourage you purchasing tickets to avoid FOMO ;)
---
Date: Saturday, April 6, 2019
Time: Door open 9pm

Address: 120 Diner, 120 Church Street
Tickets: $20
*Wheelchair accessible (not bathrooms)

---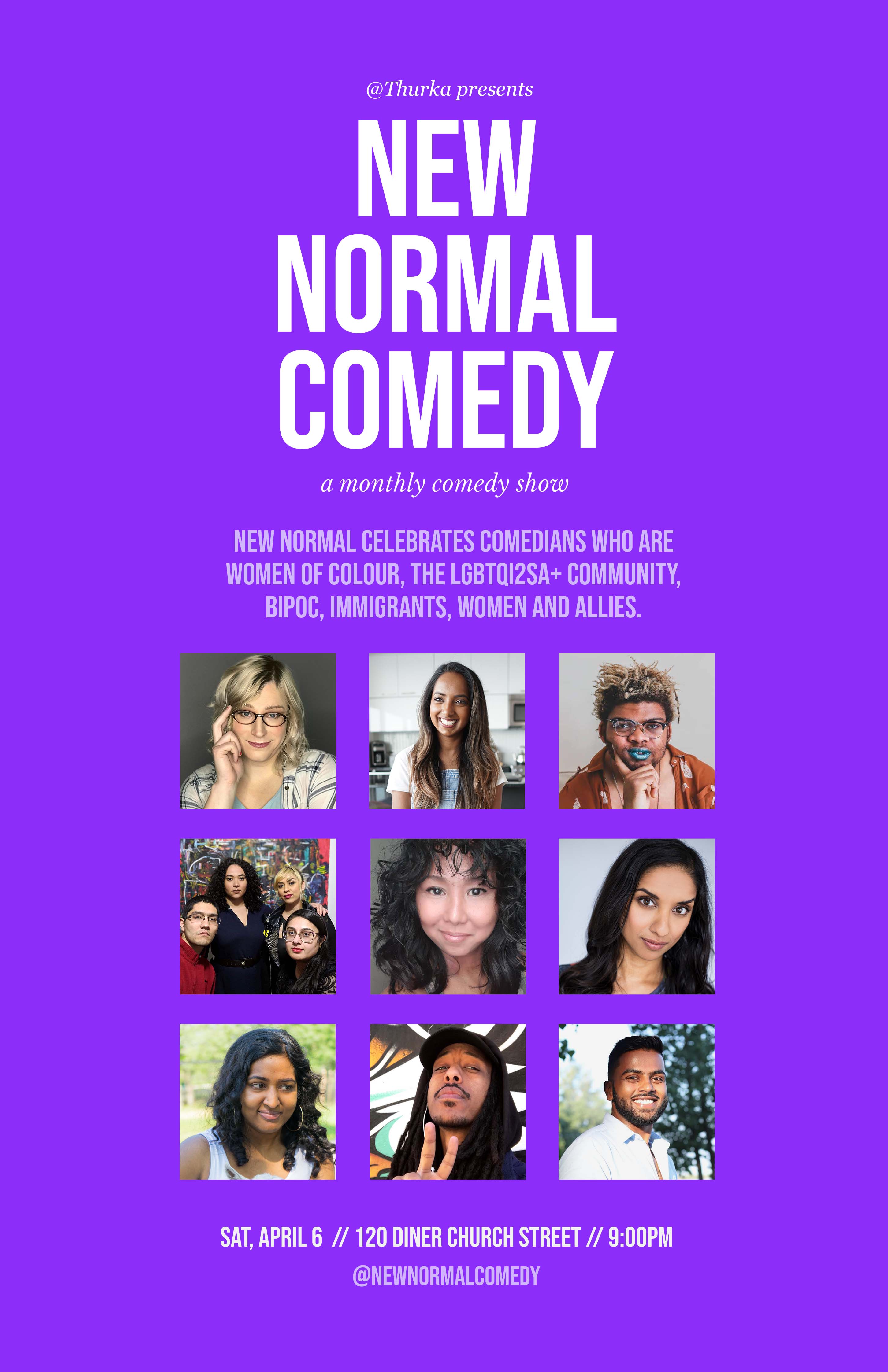 LINE UP (details to be added)
The AMAZING LINEUP includes:
Thurka Gunaratnam is cis woman whose gender pronouns are she/her. She's a filmmaker, educator and digital content producer for TV/Web digital brands (CBC/MEC). She's been on Anti Token Comedy Show, Crimson Wave, The Surreal Life and Comedy Kapow. She started stand-up comedy producing this dope diverse show
New Normal Comedy
. She celebrates comedians from marginalized background and loves all your affirmative laughs <3
Rosani Christy is a Tamil stand up comedian straight outta Scarborough. She has been entertaining crowds- small and large- since the fall of 2017. She can be described as ""cool and collected"" and loves talking about her experience being a brown, gangsta mom on wheels. She has performed on some of the greatest stages in Toronto including Alt dot Comedy, SHADE, Comedy Kapow whether she is booked or uninvited.
Veronica Antipolo took Stand Up and Storytelling at Second City, as a result of a midlife crisis and coercion from her good friend. She is co-producing Showcase 1017, which features comedy, music, spoken word and art. She's performed at Comedy Kapow, Stories We Don't Tell, The Surreal Life and, of course, New Normal.
Born in Greece to Ethiopian parents and raised here in Canada, Black Zeus is a unique comic who blends his life experiences and absurd personality to create an unforgettable performance. A regular favourite at the legendary Nubian Show and planning to release an album this year so please follow @akablackzeus
Actor, Writer, Director and Comedian - she has appeared on CBC Comedy, written for CBC's Air Farce and has performed at various comedy festivals all over Ontario. And this year, she will be taping her first televised stand up set for CBC at The Winnipeg Comedy Festival.
Sunthar aka Sunny is a marketing communications professional by day. Writer, model, influencer by evening. Sharing his thoughts on masculinity, sexuality and life through spoken word and comedy. He is producing his own show HOME in Scarborough where he's bringing home the conversations he's been having throughout the city. The show is April 11.
Fusion Comedy (Sketch) featuring, Xe Gi, Rabiya Mansoor, Tiyawnda McGregor, Marie Sotto and Paul
FUSION is a super team of the best up and coming stand-ups, improvisers and writers in the city. Spotlighting material from a culturally diverse LGTBQ perspective, Fusion showcases
Ashley Cooper - Headliner
"Best Newcomer Comic nominee*, Ashley Cooper is a trans comic from Toronto. After spending 31 years pretending to be a boring man, she is now trying her hand at being a funny woman. During that time, she has opened for Sasheer Zamata (SNL), performed with Las Culturistas, and shared the stage with the likes of Chanty Marostica (Top Comic 2018), Andrew Johnston, and Martha Chavez. She was selected as a Rising Star at the Brantford Comedy Festival and has performed at JFL42, Toronto Sketch Comedy Festival, and the Midwest Queer Comedy Festival (OH).
She lives in Toronto with her three cats, because of course, she does. *I Heart Jokes Awards 2019
---
For more announcements, contests and to be the first to find out when the next show drops, follow:
FB: https://www.facebook.com/newnormalcomedy

IG: https://www.instagram.com/newnormalcomedy
Twitter: www.twitter.com/newnormalcomedy