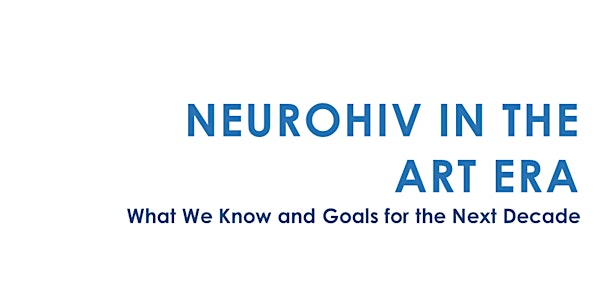 NEUROHIV IN THE ART ERA
By Division of AIDS Research, NIMH
Date and time
October 23, 2017 · 8am - October 24, 2017 · 5pm EDT
Location
BETHESDA MARRIOTT (POOKS HILL) 5151 Pooks Hill Rd Bethesda, MD 20814
Description
To accommodate the overwhelming response and increased participant count, the meeting will be held at the Bethesda Marriott, 5151, Pooks Hill Rd, MD-20814 instead of the Fishers Lane location.
(Shuttle service will be provided from EVEN Hotel to the meeting venue.)
Division of AIDS Research at NIMH, in collaboration with Program from NINDS, NIAID, NIDA, NIA, NICHD, and the NIH Office of AIDS Research are pleased to host the NeuroHIV in the ART era meeting, on 10/23 and 10/24 at 5151,Pooks Hill Rd, MD-20814.
Despite the effectiveness of ART, HIV-induced CNS dysfunction persists, but a significant heterogeneity in the prevalence and severity of these disturbances exists. Brain autopsy findings from HIV positive individuals on ART have revealed a paucity of the distinctive pathologic findings seen in the pre-ART era. At this critical juncture, it is important to evaluate and understand the underlying pathophysiological mechanisms, the co-morbid conditions, and the chronic inflammatory state that lead to a complicated heterogenous clinical presentation. The goal of the meeting will be to review the state of the science in the NeuroHIV field and to identify key gaps in the agenda for future research.
Topics:
Current understanding of HIV-induced neuropathogenesis and the associated clinical presentation
Influence of co-morbidities on pathogenesis and diagnosis of HIV/CNS disease
Impact of HIV-induced Inflammation & neuroimmune mediators on the CNS
Impact of HIV CNS reservoirs on pathogenesis and cure efforts
Meeting Chairs: Dr. Avindra Nath and Dr. Serena Spudich
---
Click here to view the : Draft Agenda
---
Hotel reservations can be made by the options listed below:
• Call 855.TRY.EVEN (855.879.3836) or 301.881.3836 for the EVEN Hotels Reservations Department and reference the group name Neuro HIV in the ART Era Conference (E89).
• Call 301.897.9400 for the Bethesda Marriott Reservations Department and reference the group name Neuro HIV in the ART Era Conference.
• Via this unique web link: EVEN Hotels [Just click on the link and it will take you directly to the EVEN Hotels Rockville - Washington, DC-Area reservations page. Select the contracted dates and click on the orange "Check Availability" box. Please note that your group code (E89 ) will appear in the Group Code box. Shuttle service will be provided between the Even Hotel and Venue.]
About the organizer
Division of AIDS Research,  NIMH