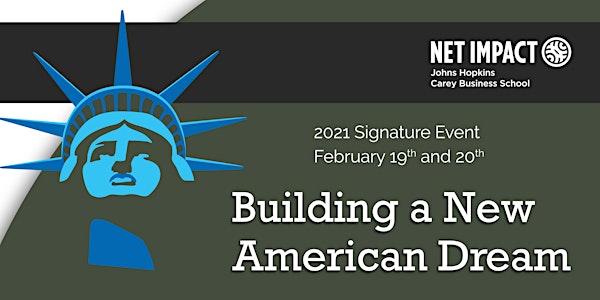 Net Impact 2020-2021 Signature Event: Building A New American Dream
Sales Have Ended
Registrations are closed
Thank you for your interest in the Net Impact 2021 Signature Event! We are sad to have missed you, but be sure to subscribe to our newsletter to say up to date on all the exciting events we have planned. Sign up here → http://eepurl.com/dcAnG9 Thanks so much, JHU Net Impact Executive Team
Reimagine what is possible with other future leaders. Join Net Impact for a two-day virtual event, Fri 5-7 ET and Sat 9-4 ET.
About this event
In the wake of a tumultuous year, as we reconsider and reimagine what is possible for the nation and the globe, the leaders of tomorrow must band together to build the future we wish to see. Join Net Impact for an all-day event, Saturday, February 20th, 9am-4pm ET, devoted to building a new American dream through workshops, discussions, and networking events.
Mixer and Mixology: A Networking Event
Friday, February 19th, 5-7pm ET
Meet other conference participants and connect over common interests in an informal networking session. Bring your favorite drink or one of our themed cocktails for social impact themed trivia and speed round networking.
_______________________________________________________________________________
Johns Hopkins Net Impact Chapter Greeting
Saturday, February 20th, 9am ET
Welcome to our Signature Event! The JHU Net Impact Executive and Design teams welcome participants and share their hopes for the day ahead.
Morning Inspiration : Will Bott - CEO and Founder at BlinkTech
Saturday, February 20th, 9:30am ET
Grab your coffee and get ready for a day of reimagining and planning with our morning inspirational kick-off! Hear from our social impact speaker and get excited.
Funding the Dream: Financing for Social Impact
Madison Marks - Director at Social Innovation Lab at Johns Hopkins
Saturday, February 20th, 10am ET
The distance between idea and reality is often a question of financing. Join venture capital professionals for a presentation and workshop of getting those projects off the ground, including where to seek funding and at what juncture, pitch practice, and best practices for presenting your ideas to funders.
Business Roundtable: Disrupt and Rebuild
Jesse Simmons - Impact Investing at Align Impact, Jennifer Parisien - Senior Financial Analyst at FSA Investment Group & Paul Daniele - Portfolio Officer at IFC
Saturday, February 20th, 11:45am ET
Hear from the leaders in today's changing paradigm. We have gathered the disrupters and the rebuilders together to discuss their strategies, struggles, and victories for a lunch-time conversation sure to inspire.
Beyond the Title: Building for Social Impact
Hiram Lopez-Landin - Manager Corporate Responsibility at Qualcomm & Colin Curzi - Manager of Business Engagement at Institute for Market Transformation
Saturday, February 20th, 1pm ET
Social impact is more than just a job description or particular company; it is the ethos of all that you do. Join our panelists for a conversation around how to keep social impact front of mind regardless of industry or job title. We'll talk sustainability in tech and incorporate a triple bottom line approach into your enterprise.
Co-creating the Dream: Networking Event
Sophie Zinser - Academy Fellow at Chatham House
Saturday, February 20th, 1pm ET
Do you have a brilliant idea, all the notes in the world, and a complete shortage of teammates? Or are you looking for that perfect job that incorporates all of your social impact hopes and dreams? Come share your project descriptions and resumes with us to be shared with all event speakers and participants. Let's ensure that these rebuilding plans live long after the final Zoom call.
Keynote Address
Saturday, February 20th, 1:30pm ET
Hear from our Signature Event Keynote speaker Peter Lupoff, CEO of Net Impact International, on issues of social impact and business.
Blue Ocean Workshop
Stephanie Yim - Senior Designer at Public Policy Lab
Saturday, February 20th, 2:30pm ET
When reimagining, sometimes the most effective tool can be to remove all the existing constraints and build from zero. Join Net Impact and human-centered designers for a Blue Ocean Workshop, where we move beyond what exists and co-create an initiative for building a new American economic paradigm.
End of day: 4pm ET
Questions? Contact Aleks Romano at aroman15@jhu.edu.