Temple Beth Israel, in conjunction with Claremont's Folk Music Center and the Jewish Federation present Nefesh Mountain in concert.
About this event
In Concert. In Person. At TBI. Saturday evening, January 8, 2022 at 7 p.m.
Since their arrival on the scene in 2015, Nefesh Mountain has been hailed as one of today's formative boundary-pushing bluegrass Americana bands. They're among the first to truly give voice and openly represent Jewish American culture, tradition, values and spirituality in the world of American roots music. Not only a reflection of their vast musical knowledge, that open-hearted embracing of so many eclectic genres also speaks to the joyful curiosity that animates every aspect of their artistry.
Due to COVID-19 concerns, seating for the show is limited and spaced appropriately with the goal of creating as safe an experience as possible for all involved. General admission is available at $18/ticket with Preferred seating at $36 for seats closer to the stage. Sponsor level tickets are also available at $72 which include a private reception with band members and best seats in the house.
Please note that all attendees are expected to be fully vaccinated against COVID-19 and remain masked while indoors in accordance with LA COunty guidelines. Please bring your vaccine cards or electronic equivilent.
Please contact Cantor Paul Buch at cantor@tbipomona.org with any questions.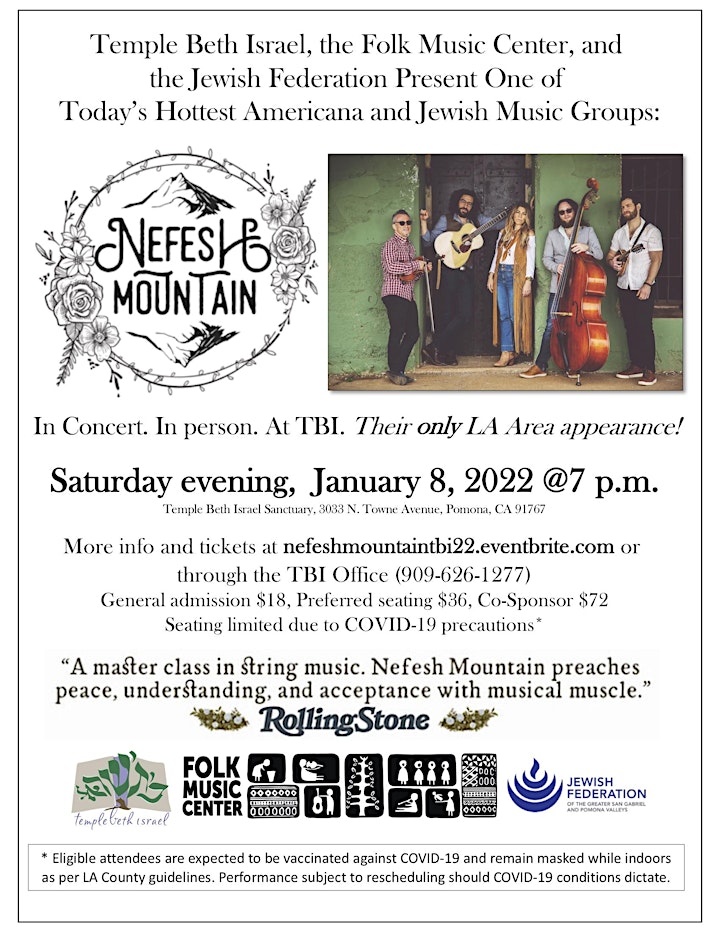 Organizer of Nefesh Mountain
Temple Beth Israel is located in Pomona, CA, 35 miles due east of Downtown LA. We currently have about 425 families/member units formally affiliated with our synagogue and are members of the Union for Reform Judaism.  We are an inclusive congregation that includes a significant number of interfaith or "blended" families, as well as individuals, couples and families that identify along the LGBTQ spectrum.  We meet weekly for Shabbat services on Friday evenings at 7:30, have an active Beit Sefer for our pre- Bar/Bat Mitzvah students as well as an active teen program and events and opportunities for yound adults, adults, and seniors.  We are also committed to engaging actively with the wider community and developing partnerships with the diverse faith institutions in it. More info at tbipomona.org or on Facebook.