GROW YOUR BUSINESS WITH MENTORING… Woman to Woman
About this event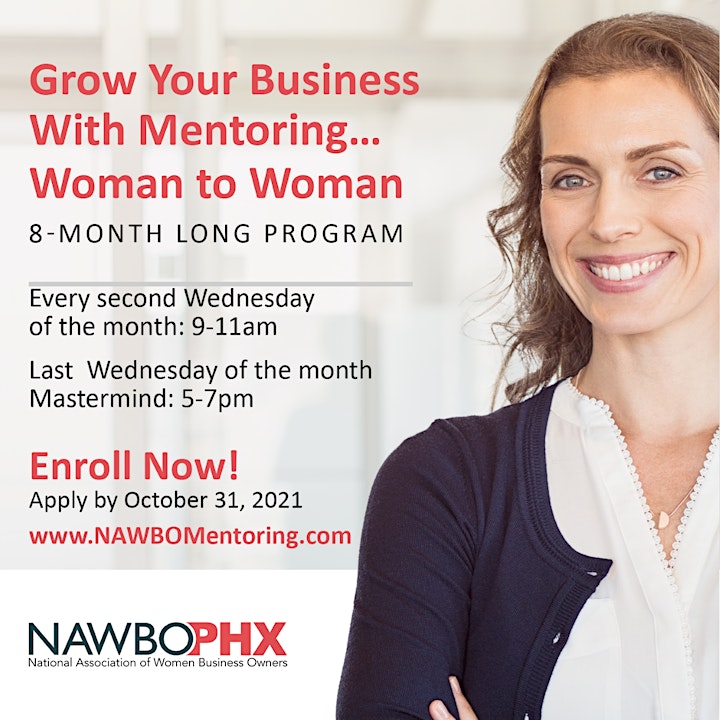 Strengthen the wealth capacity of your business with the National Association of Women Business Owners (NAWBO) and their one-of-a-kind mentoring program.
As a mentee, you can expect:
To increase your general business knowledge and skills in topics that are critical for building a sustainable and profitable business.
To learn about business behaviors and mindsets that will help you break down any old habits that keep you from realizing your full potential as a business owner. 
To get introduced to key resources and alliances that can help you along your business development journey.
Grow through 8 months of intensive instruction and hands-on education for a more profitable business. Only 12 mentees are chosen for this exclusive opportunity. 
The program begins in November with a full day of learning. Each month, there will be (2) two-hour sessions. The first will focus on training each mentee on a variety of disciplines. The second will be a mastermind session with peers and a trained NAWBO mentor.
How much does it cost?
 Once accepted, those new to NAWBO pay $749 which includes an introductory membership, which will augment the mentoring program.
Currently a member? Just pay $399 for all eight months of valuable business education.
How to apply for the mentoring program
Go to NAWBOmentoring.com and fill out our form
A phone call will be scheduled to discuss your application.
A trained NAWBO mentor will explain our process and walk you through your goals.
If accepted, finish the process by going to NAWBOmentoring.com to pay. 
Scholarships may be available through the Women Enterprise Foundation. For more information, to go wefphx.org. An application is still required.
Questions?
Contact: Ronit Urman (Ronit@urmanent.com), or Suzi Glover-Garman (suzi@suziglover.com)
Organizer of NAWBO Phoenix Mentoring Program
NAWBO is the voice and vision for twelve million women business owners in the United States. 
We understand the journey of a woman owning a business and juggling all the other roles in her life. We offer you the opportunity to connect and have conversations that you simply can't have anywhere else, becuase we are all women business owners.  We empower, we educate, we advocate and we help propel you and your business. And we have fun while doing it! 
Join us!