Our third meeting of "Navigating Academia with Purpose," a limited series for minoritized students and applicants at all levels.
About this event
In this meeting, we will discuss how to DISCOVER and DEFINE your purpose at all stages of your academic journey.
Having a clear sense of purpose is essential for navigating academia while maintaining health and wellness, especially as a minoritized person. In this meeting, we will:
Share stories highlighting the importance of defining your purpose on your academic journey.
Discuss how we, as a community, have found ways to discover and define our individual and collective purpose.
Start engaging with introspective practices that assist in discovering and defining your unique purpose.
This meeting is overlapping with Psychin' Out Fall 2022 Application Bootcamp - a *FREE* series of presentations and community workgroup session for individuals applying for graduate programs starting Fall 2022. See infographic below for details. Register here!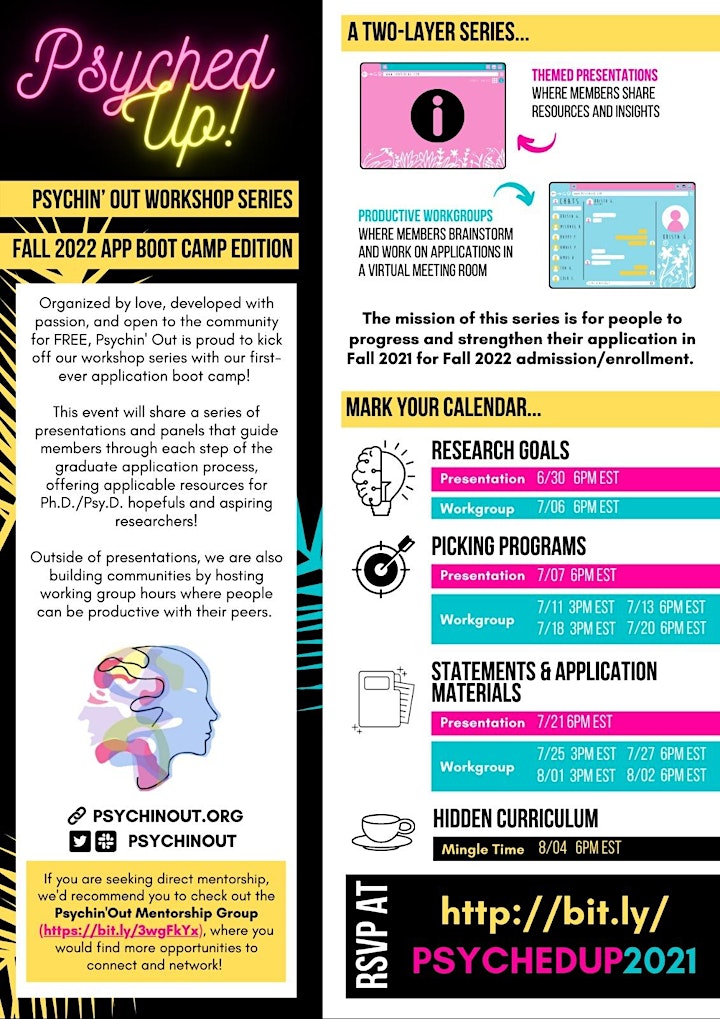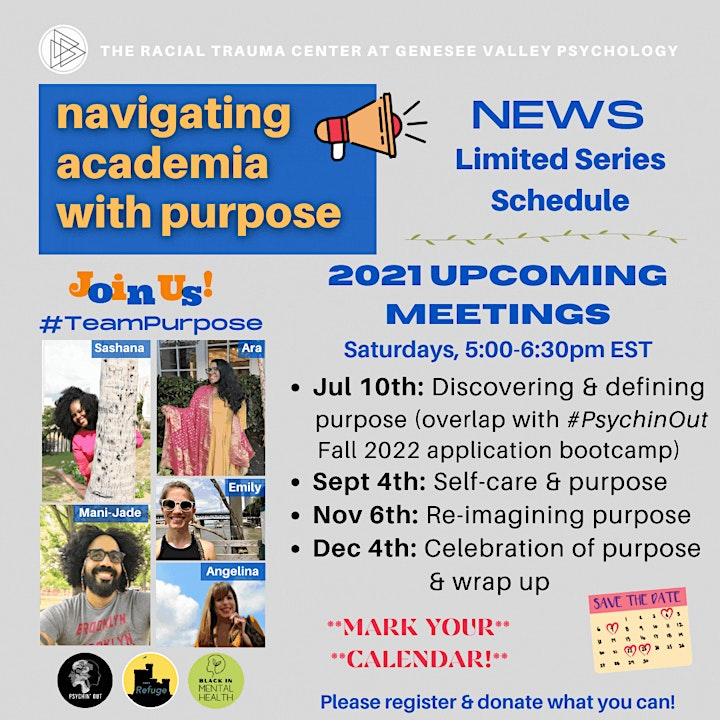 The "Navigating Academia with Purpose" Series
Navigating academia carries a lot of stress, and that stress can multiply if you identify as a minoritized person. In collaboration with Refuge Workgroup, Psychin' Out, and Black In Mental Health, this limited series will focus on unpacking the stress of navigating academia with purpose as a minoritized person, and seek to:
Normalize the stress brought on by pursuing goals at all levels of one's academic journey
Describe stress specific to minoritized people during their academic journey
Discuss ways to manage emotions specific to different stages of one's academic journey
Share helpful resources and discuss ways to build a community of support.
This series is moderated by Mani-Jade Garcia, in collaboration with Angelina Gomez, Sashana Rowe-Harriott, Aradhana Srinagesh, and Emily Turner.
See above for our upcoming series events!
Organizer of Navigating Academia with Purpose: Discovering & Defining Purpose
We have a growing list of virtual services and mental health events, which currently include therapy groups geared towards Black women, anti-oppression panels and workshops, virtual BIPOC meditation retreats, white allyship trainings, and more. Be sure to check back as we are looking to expand our menu of services. Let the liberated healing begin!