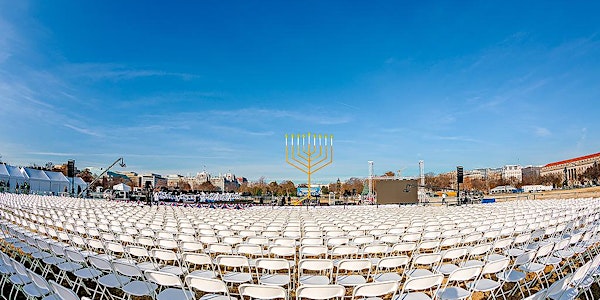 National Menorah on the Ellipse 2021
Featuring ** "The United States Air Force Band**Dreidelman ** The Three Cantors** ** Latkes and Donuts **
When and where
Location
The Ellipse Washington, DC 20502
Refund Policy
Contact the organizer to request a refund.
About this event
Featuring
** "The United States Air Force Band" **Dreidelman ** The Three Cantors**
**Packaged Donuts ** Dreidels and Personal Menorah Kits ** Fun for the whole Family ** Free Admission ** 
--
Due to Covid-19, and to help ensure the wellbeing of those in attendance, we will be implementing social distancing and other preventive protocols. If you will be attending with other family members, who live in the same household, please indicate so on your ticket request, so you can sit together.
By attending the event you will be confirming (a) you do not currently have COVID-19 (b) you are not experiencing symptoms of COVID-19 and (c) you have not been in contact with anyone that has been experiencing any symptoms of COVID-19 within 7 days of the event.
Finally, we respectfully request that you request tickets only if you are sure you will attend, as we must severely reduce the amount of seats available this year. We wouldn't want anyone who wishes to attend to miss out because their seats were taken by those who ultimately did not show up.
--
Perhaps the most prominent public Chanukah program in the world is the annual lighting ceremony of the National Chanukah Menorah on the Ellipse, just across from the White House in Washington, DC.
The lighting of this magnificent menorah – the world's largest – is attended by thousands every year and seen via TV newscasts, internet feeds and other media by tens of millions across the nation and around the world.
Indeed, this menorah has become a premier national and even international symbol of the festival of Chanukah, inspiring many communities across the globe to sponsor more and greater public menorah lighting ceremonies of their own. After all, this is the essence of the celebration – to increasingly proclaim and celebrate the miracle of Chanukah – The Festival of Lights, in the most public manner possible.
In this way, we actively reaffirm the celebration of our freedom, inspired by the historic and present victory of right over might, light over darkness, and understanding and justice over intolerance and bigotry.
An opportunity to support this completely privately sponsored program is available when obtaining your (free) tickets.