Event Information
Location
Troubadour
9081 Santa Monica Blvd
Los Angeles, CA 90069
About this Event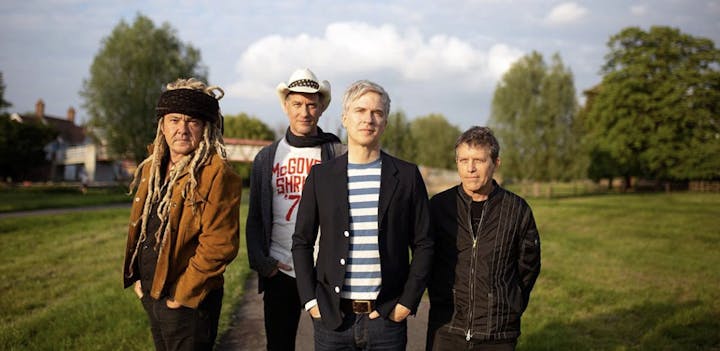 Nada Surf
With their ninth studio album, Nada Surf—Matthew Caws, Daniel Lorca, Ira Elliot, and their longtime friend and collaborator Louie Lino—continue pursuing their humanistic vision of the world through hooky, catchy rock songs with sharply drawn, yet tenderly felt lyrics. Never Not Together, out on TK DATE, is a wide-ranging collection of songs that revel in the group's ability to evoke and reflect grand and intricately wrought emotions, whether through sweeping guitar solos or hushed-whisper vocals.
"Empathy is good, lack of empathy is bad, holy math says we're never not together," Caws declares at the end of "Something I Should Do," a crashing powerpop track with an insistent melody that adds urgency to his thoughts about 21st-century life. The concept of "holy math" which informs that line—and the album's title—was inspired by a Justin Vernon appearance on the Song Exploder podcast, where the Bon Iver leader talked about the interconnectedness of humans. "We're all together, and that's just the way it is, and the way it always will be," says Caws. "That's the sacred truth of it."
That idea of being linked and searching for connection is a common theme of the album's lyrics, which depict people hunting down answers by peering within and reaching outward. "Looking For You," which opens with a spectral choir and blossoms into a rock spectacle with crashing strings and two guitar solos—one played by Caws, the other by frequent Nada Surf collaborator Doug Gillard—seeks solace in doctor's visits and grand metaphors. "So Much Love," which Caws wrote as part of Hits president Karen Glauber's annual SXSW session, is a driving, yet kind-hearted reminder that love and connection are in the air—even if, in the immediate, it's lurking in the mists of one's sent-messages mailbox. "Mathilda," meanwhile, shifts time signatures as it switches perspectives on a childhood spent apart from the crowd, mulling over what "masculinity" meant even at a young age.
Youth is also a topic on "Just Wait," a shimmering midtempo song tethered to earth by a fluid bassline. "I wrote 'Just Wait' on a writing trip to Nashville," recalls Caws. During a session with songwriter Gavin Slate, the two got to talking about the current state of youth culture. "I remember how being an adolescent was so scary—just as it would be for everybody," he says. "You're starting to feel like an adult, but you kind of don't want to be; you're kind of not ready, but you kind of can't wait. It's that kind of fright-delight, like September at school." The end result is empathic and warm, its chiming guitars and background "ooh-oohs" offering a refuge from the pressure to keep up appearances in "love and work and where you live," as Caws sings on the song's bridge.
In 2017, Nada Surf celebrated the 15th anniversary of their 2002 breakthrough Let Go, an experience that energized the early planning of Never Not Together. "I made pretty elaborate demos for the songs—something I've never done before," says Caws. "I think [the Let Go tour] really boosted my work ethic and made me feel like I really had to go for it."
Never Not Together was recorded at Rockfield Studios in Wales, where artists like Echo & the Bunnymen, the Flamin' Groovies, Iggy Pop and Oasis recorded albums. "I've been seeing the name on albums for so long," says Caws. "It's a working farm, and the founder/owner, Kingsley Ward, would come in and tell us stories when he wasn't farming. I'd walk into town every morning and listen to the sheep talking as I walked by them."
That openness to listening—to their fans, to each other, to the world—has helped inform Nada Surf's legacy as down-to-earth rock stars—musicians who can command festival stages around the world while connecting to audience members on a personal level, conscious of the shared humanity every step of the way.
John Vanderslice
Over the course of his extensive career as an influential songwriter, record producer, and studio owner, John Vanderslice has carved out a singular place for himself in the landscape of American indie rock. Raised in rural North Florida, Vanderslice was forced into piano lessons as a young child, and eventually picked up the guitar and started writing songs as a teen. His relationship to songwriting transformed at fourteen when he was given a Tascam 424 tape recorder—the process of using the tape deck as an instrument was a revelation for him, and he began to channel his early influences (Led Zeppelin, the Kinks, David Bowie) into freewheeling, intuitive explorations of song.
After moving to San Francisco in 1989, Vanderslice made three records as a part of the experimental band MK Ultra, including the critically-acclaimed The Dream is Over. His obsession with recording craft persisted: while working as a waiter at Chez Panisse in 1997, he opened Tiny Telephone Recording as an affordable outlet for the Bay Area's indie rock community. Tiny Telephone has since developed into a laboratory for some of the most inventive recordings of the genre, including the prolific output of Vanderslice's own solo projects. Between 2000 and 2014, JV released 10 records on Barsuk, Dead Oceans, and Secretly Canadian, and collaborated as a producer and musician on records by Spoon, the Mountain Goats, Okkervil River, Death Cab for Cutie and Tune-Yards. He toured tirelessly across the US and Europe, playing over 1000 shows and headlining tours with Sufjan Stevens and St. Vincent.
After the tour cycle for 2013's double release of his solo album Dagger Beach and his Bowie re-imagination Vanderslice Plays Diamond Dogs, Vanderslice took an extended break from his solo career in order to build an ambitious new Tiny Telephone studio in Oakland, and to take on record producing as a full-time job. Since that time he has produced over 70 records by artists such as Grandaddy, Samantha Crain, Into It. Over It., Teen Daze, Cherry Glazerr, Sophie Hunger, Frog Eyes, Bombadil, and Strand of Oaks.
In April 2018, Vanderslice decided to leap back into his solo career with full force, hunkering down for over 50 days with Telephone engineer/producers James Riotto and Rob Shelton in a process that yielded The Cedars—Vanderslice's most ambitious record to date. The album's name is taken from an 11 square mile serpentine canyon that exists in the remote wilderness of West Sonoma county, 90 minutes north of San Francisco, where Vanderslice owns a small portion of communal land nearby. The Cedars is filled with one-of-a-kind geological phenomena: Mars-like red slopes, bizarre mineralized rock formations, and high-alkaline springs that have fostered over 8 different plant species found nowhere else in the world. Vanderslice developed an obsession with this area not only because of its mysterious beauty, but also because it's almost impossible for anyone to get there due to natural barriers and the surrounding private land ownership.
This obsession with finding the impossible was channelled into his new record: The Cedars (out on Native Cat Recordings spring 2019) approaches the craft of songwriting from every direction but the front, in a non-linear process driven by drum machines, synthesizers, and an unpredictable palette of sonic textures. In an act of getting both figuratively and literally lost in the woods, Vanderslice finds himself favoring chaos and deconstruction over well-worn paths of familiar sounds and instrumentation for his new album—and the results have landed him in a place that's uncharted, under the spell of a myth.
Performers
Date and Time
Location
Troubadour
9081 Santa Monica Blvd
Los Angeles, CA 90069
Refund Policy