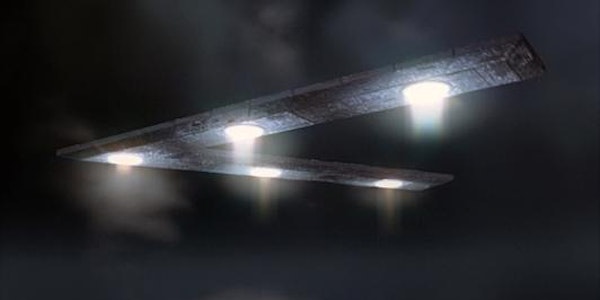 MYSTERIES OF SPACE & SKY 2018: SPECIAL EDITION!!!
Location
Bowie Elks Lodge No 2309
1506 Defense Hwy
Gambrills, MD 21054
Refund policy
Refunds up to 7 days before event
Description
WELCOME TO THE OFFICIAL REGISTRATION SITE FOR MYSTERIES OF SPACE & SKY: 2018 (MSS)!! THIS IS A "SPECIAL EDITION" OF MSS ........
ONLINE SALES HAVE ENDED, BUT WE ARE NOT SOLD OUT.....YOU MAY REGISTER "AT THE DOOR" FOR $49.95...CHECKS OR CASH ONLY!
IN ADDITION TO OUR POPULAR 'REGULAR' SPEAKER ROB SWIATEK ('UFO UPDATE'), MSS IS EXCITED ABOUT THREE MARQUEE SPEAKERS WHO WILL BE MAKING THEIR MSS DEBUT!!!
*JENNIFER STEIN: ONE OF THE WORLD'S LEADING EXPERTS ON CROP CIRCLES!!
*CHASE KLOETZKE: RENOWNED UFO EXPERT/AUTHOR & MUFON DIRECTOR OF INVESTIGATIONS!!

*TRAVIS WALTON ("FIRE IN THE SKY"): 'LIVE & IN-PERSON' & COMING TO MSS DIRECTLY FROM SNOWFLAKE, ARIZONA....ARGUABLY THE WORLD'S MOST FAMOUS & IMPORTANT UFO FIGURE ALIVE TODAY!!
THE UNDERLYING THEME OF THIS YEAR'S CONFERENCE PERTAINS TO 'SIGNIFICANT EVENTS OR TURNING POINTS IN THE LIFE' OF UFOLOGISTS/EXPERIENCERS. CLEARLY, TRAVIS WALTON'S LIFE WAS NEVER THE SAME AFTER HIS 1975 ENCOUNTER WITH A UFO IN THE ARIZONA FOREST ! ADDITIONALLY, CHASE KLOETZKE WILL DISCUSS HER "CLOSE ENCOUNTER" WITH A TRIANGLE SHAPED OBJECT AND AN ENTITY IN A CORNFIELD IN TENNESSE. AND, DR. PETER RESTA WILL UPDATE AND DISCUSS HIS STUDY OF THE 1973 PASCAGOULA ABDUCTION INCIDENT (DR. RESTA WAS ONE OF THE LAST PERSONS TO INTERVIEW CHARLES HICKSON BEFORE HE PASSED).

CLEARLY THIS YEAR'S CONFERENCE IS NOT TO BE MISSED!!! HEAR A T R U E UFO EXPERT ("UFOLOGIST"), ROB SWIATEK, OFFER HIS TAKE ABOUT THE RECENTLY RELEASED 2018 EDITION OF THE (UFO) "PENTAGON PAPERS"!! MEET UFO CAPITAL HILL LOBBYIST CHASE KLOETZKE WHO HAS RECENTLY MOVED TO WASHINGTON, D.C. SO THAT UFOLOGY HAS ANOTHER VOICE ON CAPITAL HILL!! AND, TAKE ADVANTAGE OF THE OPPORTUNITY OF MEETING TRAVIS WALTON AND JENNIFER STEIN AS THEY MAKE A VERY RARE APPEARANCE IN THE WASHINGTON-BALTIMORE AREA!!
IN THE PAST SOME HAVE BEEN RELUCTANT TO COME ALONE.......DON'T BE......APPROXIMATELY 70% OF ATTENDEES COME ALONE AND NO PRESSURE IS BROUGHT TO BEAR FOR YOU TO SIT 'IN A GROUP'!! WE DO ASK THAT ATTENDEES BE AT LEAST AROUND 14 YEARS-OF AGE AS SERIOUS ADULT TOPICS WILL BE EXPLORED. OF COURSE, DOOR PRIZES WILL BE GIVEN AWAY AND AUTOGRAPHED BOOKS AVAILABLE FOR SALE!
THE TENTATIVE SCHEDULE OF EVENTS IS AS FOLLOWS:
9:15-10:00: REGISTRATION (CONTINENTAL BREAKFAST AVAILABLE)
10:00 WELCOME & PRESENTATION: THE PASCAGOULA 'ABDUCTION' MYSTERY (S. P. RESTA)
10:15: THE TENNESSEE CORNFIELD UFO INCIDENT/'ENTITY' (CHASE KLOETZKE)
12:15-1:15: LUNCH BREAK (LUNCH SERVED ON PREMISES FOR A NOMINAL FEE)
1:15=2:15: ANNUAL UFO UPDATE (ROB SWIATEK)
2:15-3:45 THE ENIGMA OF CROP CIRCLES (JENNIFER STEIN) (FOLLOWED BY A BREAK)
4- 5:30: 'FIRE IN THE SKY' (TRAVIS WALTON)
5:30-6: FINAL THOUGHTS/50-50 DRAWING/QUESTIONS

(TIMES & SPEAKERS SUBJECT TO CHANGE)
---------------------------------------------------------------------------------------------------------------------------------------------
IMPORTANT REMINDERS: THE ADMISSION PRICE IS THE SAME REGARDLESS OF WHEN SOMEONE ACTUALLY ARRIVES OR LEAVES. LUNCH AND A CONTINENTAL BREAKFAST WILL BE AVAILABLE FOR A NOMINAL FEE (THE LODGE DOES NOT PERMIT OUTSIDE FOOD TO BE BROUGHT INTO THE CONFERENCE ROOM). IF ARRIVING FROM OUT-OF-TOWN IT IS SUGGESTED THAT YOU CONTACT THE CONFERENCE ORGANIZER FOR SOME LODGING SUGGESTIONS (GAMBRILLS IS VERY CLOSE TO ANNAPOLIS AND HOTEL ROOMS ARE OFTEN AT A PREMIUM IN MID-OCTOBER).

------------------------------------------------------------------------------------------------------------------------------------------------
DON'T DELAY................REGISTER TODAY !!!!!