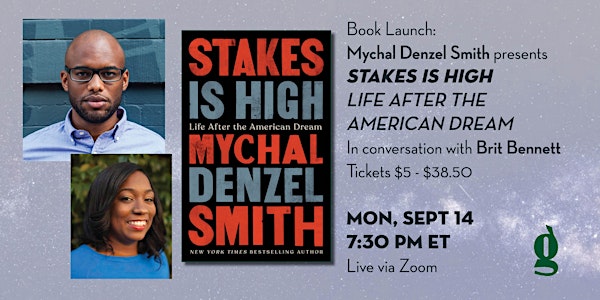 Mychal Denzel Smith presents Stakes Is High (with Brit Bennett)
The author of Invisible Man, Got the Whole World Watching presents his new book on the shortcomings and potential of the American Dream.
Refund Policy
Contact the organizer to request a refund.
About this event
Brave, clear-eyed, and passionate, Mychal Denzel Smith's Stakes Is High — the follow-up to his bestselling Invisible Man, Got the Whole World Watching — is the book we need to guide us past crisis mode and through an uncertain future. The events of the past decade, in particular the election of Donald Trump, have forced us to reckon with who we are as a country and who we want to be. We have been invested in a set of beliefs about our American identity: our exceptionalism, the inevitable rightness of our path, and the promise that hard work and determination will carry us to freedom. But in Stakes Is High, Smith confronts the shortcomings of these stories — and with the American Dream itself — and calls on us to live up to the principles we profess but fail to realize. In this profound work, Smith helps us envision a future that is not as grim as our past, with care, honesty, and imagination. Smith talks with Brit Bennett, bestselling author of The Mothers and The Vanishing Half, about his vital new book live at this special virtual event. Smith will sign and personalize copies of Stakes Is High for ticketholders.
Some ticket options include a signed copy of Stakes Is High, which can be shipped or picked up at one of our store locations. Copies may be personalized by request; please note book delivery and signing options when purchasing.
ABOUT THE AUTHOR:
Mychal Denzel Smith is the author of the New York Times bestseller Invisible Man, Got the Whole World Watching (2016) and Stakes Is High (2020). His work has appeared, online and print, in the New York Times, Washington Post, Harper's, Artforum, Oxford American, New Republic, GQ, Complex, Esquire, Playboy, Bleacher Report, The Nation, The Atlantic, Pitchfork, Bookforum, and a number of other publications. He has appeared on The Daily Show, PBS Newshour, Democracy NOW!, Full Frontal with Samantha Bee, MSNBC, CNN, NPR, and more national and local radio/television programs. He is featured in and was a consulting producer for "Rest in Power: The Trayvon Martin Story," the Paramount Network docuseries executive produced by Jay-Z. In 2014 and 2016, TheRoot.com named him one of the 100 Most Influential African-Americans in their annual The Root 100 list. He was also a 2017 NAACP Image Award Nominee. He is a fellow at Type Media Center. You can follow him on Twitter at @mychalsmith.
ABOUT THE INTERVIEWER:
Born and raised in Southern California, Brit Bennett graduated from Stanford University and later earned her MFA in fiction at the University of Michigan, where she won a Hopwood Award in Graduate Short Fiction. In 2014, she received the Hurston/Wright Award for College Writers. She is a National Book Foundation 5 Under 35 honoree, and her debut novel The Mothers was a New York Times bestseller. Her second novel The Vanishing Half was an instant #1 New York Times bestseller. Her essays have been featured in The New Yorker, the New York Times Magazine, The Paris Review, and Jezebel.