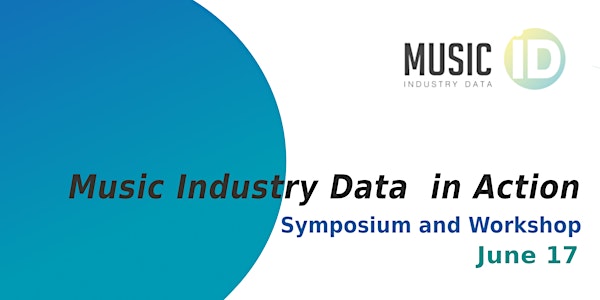 Music Industry Data in Action: A Symposium and Workshop
MusicID will hold its first ever Digital Symposium and Workshop, June 17 at 1:00–3:00 Eastern, of short papers using music industry data.
About this event
Music Industry Data in Action: A mini-symposium and digital resource workshop presented by MusicID
MusicID is delighted to announce its first ever Digital Symposium and Workshop, to be held June 17 at 1:00–3:00 Eastern.
About Us
MusicID is the leading academic platform and aggregator of global music chart data. Incorporating 5,452 different charts spanning 74 countries and over half a billion lines of data, MusicID Data provides unique access to source music industry data of record charts, current and archival digital charts, and even Spotify stream counts. Spanning over 120 years of records, the MusicID platform enables researchers and students to visualise, explore, compare and download the data patterns and infographics for sales, revenue and cultural impact for artists, albums and singles across the world.
At MusicID, we have the good fortune of hearing about exciting work being done by scholars in diverse fields, all over the world, every day. With so many fascinating projects on our radar, we want to hold a mini two-part symposium, giving our community an opportunity to share some of their recent and ongoing research. The symposium will be (relatively) informal and interactive — not to mention, brief — because we all know how our attention span and productivity have been affected this past year.
Part I - Symposium (1:00 Eastern Time)
For the first hour, we will host an informal symposium of 15 minute presentations, with time for Q&A after each. In conjunction with our recent MEIEA Summit panel, "Data, Pedagogy and the Music Industries: Challenges and Opportunities" and data literacy initiative to provide resources to teachers and students, these presentations will highlight current research being done using MusicID.
At first glance, music chart data seems a niche resource, providing trivia for pop music histories or metrics for music industry professionals. What I, and many of our users, have discovered, is that once all of this data is collected into a central, searchable archive and visualised into graphs, chart data becomes a narrative of recorded music consumption, tastes, cultural trends, the co-evolutions of formats and songwriting—and even of sociological and anthropological issues, such as ethnic migration, demographic shifts, and economic up- and downturns.
Program: Scroll down for guest speakers and their abstracts!
Our goals are to help our community discover the myriad of ways in which they can use the data provided by MusicID, generate discussion, inspire, and in our digital workshop, help you to find and use the resources you need to make your research happen
Part II - Digital Workshop (2:00 Eastern)
A digital workshop to briefly introduce you to some popular digital humanities or data science resources, and walk you through using MusicID's three modules, Data, Revenue, and Impact. Our goal is to introduce you to the MusicID interface and give you the confidence to go forth and use it on your own terms. Complimentary access to MusicID for two weeks of June will be provided to attendees.
If you have multiple screens or can juggle a split screen, we encourage you to follow along on your own device and put the "work" in workshop. (Split screen instructions for WIndows and for Mac.) Direct participation will better enable you to ask questions during the workshop and will give you a better understanding of how to use the system.
Registration
Attendance is free but registration is required.
Please RSVP through Eventbrite, and you will receive a confirmation email with Zoom meeting details.
We hope to see you for the full event, but attendees are welcome to attend only the first or second half.
Program
1:00 pm
Andrew Ullah (USC, Marshall School of Business) - "Deconstructing the Billboard Hot 100"
Abstract: In collaboration with other MBA students at USC, I analyzed Billboard Hot 100 data to build predictive models informing the likelihood of a song's popularity using chart positions as our benchmark of success. Acoustic song data was gathered from Spotify's open API to model song attributes such as tempo, key, duration and danceability, which were then joined with revenue data from MusicID Revenue to forecast the song's expected earnings. Statistical models such as regression and decision trees were explored to retrieve the insights. Where it is widely known that attention spans are decreasing year over year with the ample amounts of competition of media content substitutes for music, shorter songs also maximize on the royalty payout model in streaming where 30 seconds equates to a unit of sale. Meaning, there is no marginal benefit for music creators when listeners listen to their songs beyond 30 seconds. This creates the opportunity for the composition of songs to be incredibly sensitive to the consumption platform as seen in Saweetie's hit song, "Tap In," with just over two minutes in duration and a large level of dance engagement on TikTok. This song moreover features a prominent sample within the first 30 seconds, to ensure listeners engage long enough to yield a unit of sale. Further song attributes need to be explored such as melody, chord progression to offer additional insights, but from our study duration, consumption platform, and royalty payout models are all core criteria that need to be considered when developing and collecting on recorded music within the digital ecosystem of today.
Mathew Flynn (University of Liverpool, lecturer in Music Industry) - "Challenges of Teaching and Using Data in Music Industries Curricula"
My research and teaching at The University of Liverpool focuses on music makers' and music industry practitioners' decision-making across numerous creative and commercial contexts. Increasingly big data is a key input into to strategic decision-making within and across music companies, and for music makers developing careers. Equally how data is stored, coded, accessed, managed, shared and used brings with it its own decision challenges. Students pursuing careers in the music industries need to prepare to work with data and understand its value in terms of making more informed choices. However, due to the proprietary nature of most industry datasets, this is a challenging subject to teach. Over the last year I have been developing an active role for data in the MA Music Industries curriculum I currently deliver, and this presentation will demonstrate the early stages of how I have attempted to do this, the challenges encountered, and progress to date.
2:00 pm
Katie Straker (PhD Candidate in musicology, The Graduate Center, CUNY) will be hosting the workshop after giving a short presentation on using music industry data to develop (not merely empirically support) theses in musicology.
Participants will receive log in information for the MusicID platform the day before the event. We encourage you to log in and follow along during the workshop so that you are best able to ask questions and seek guidance in how to use the platform for your individual research.