Actions and Detail Panel
Mummies Night
Sat, October 29, 2016, 5:00 PM – 8:00 PM CDT
Description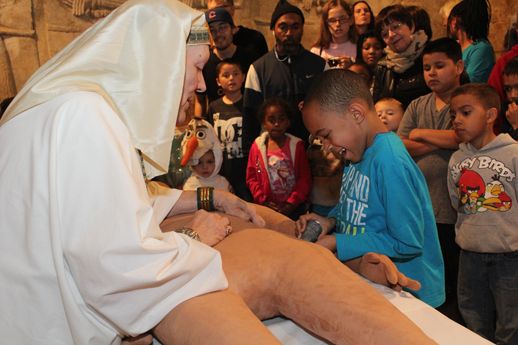 Make the Oriental Institute's Mummies Night part of your trick-or-treating plans or take advantage of the whole free event on October 29th, from 5 to 8pm.
Mummify our simulated mummy, take a mummy tour, or hear a mummy-tale. Craft a mummy for your kitchen, peek into the future with a pyramid fortunteller and create an ancient-inspired goody bag to carry your halloween haul! Catch a family photo at the Great Pyramids and with life-sized camel standees at our Photo Op stations. Play the game many a mummy has taken to his own tomb – Senet.
And as always, in the galleries, King Tut's monumental 17-foot-tall statue and our 40-ton Assyrian winged bull will lend a photogenic background for Officer Hopps, Captain America, or whatever your costume.
Scouts and other interested youth can get their OI mummy fun patch for attending this event. Patches available onsite. Recommended for children ages 4 and up, accompanied by an adult. Registration recommended.
update:

We will have a face painting station and we've booked a DJ, cross your fingers for good weather!
Mummification simulations at 5:15, 5:45, 6:45, 7:15; Mummy Tours at 5:30, 6:00, 6:30, 7:00. These offerings will be time-ticketed as space is limited! Storytime at 5:30, 6:30, 7:30. Times subject to change.

This event is sponsored by Mamma Chia and the Junior League of Chicago
About the Oriental Institute
The Oriental Institute, part of the University of Chicago, is one of the world's leading centers for the study of ancient Middle Eastern civilizations. The Museum cares for and displays a vast collection of artifacts from ancient Egypt, Mesopotamia, Nubia, Persia, and Turkey. Learn more at https://oi.uchicago.edu. The Oriental Institute is located at 1155 East 58th Street, Chicago, IL 60637.