Local and national leaders will discuss mobility post-pandemic, and how we can move our region in a better direction
About this event
Join Movability on July 21 from 10:30 am to 12:00 pm for a virtual Mobility Summit
As we return to work and recreation, mobility problems are once again becoming part of everyday life and stand to have a detrimental impact on equity, the environment, housing, job access, and affordability. How will the private and public sectors address these issues, and what role can businesses and individuals play, so that we don't emerge from the pandemic only to return to the same patterns and problems?
You will learn from:
National stakeholders looking to make changes at the federal policy level and how you and/or your organization can help
A diverse group of community leaders on how transportation relates to their field of expertise and opportunities to improve
Local elected officials regarding how they are working to plan and implement improvements for the region's benefit
Meet our Speakers
Keynote Speaker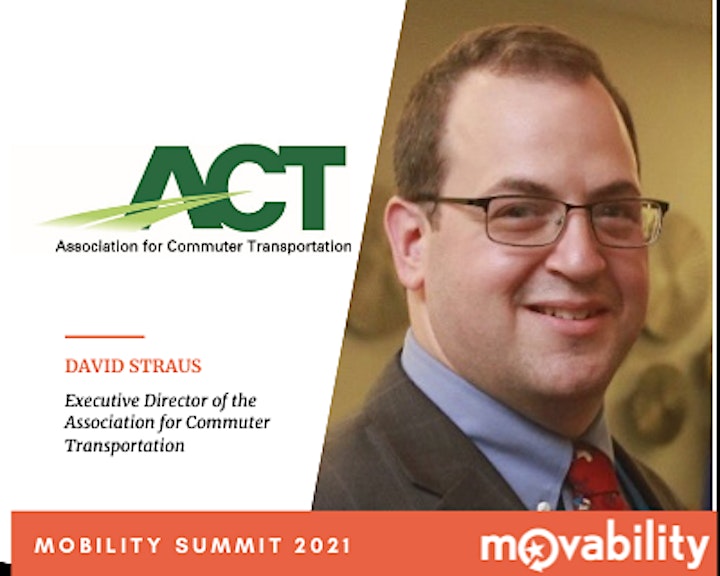 David Straus - Executive Director of the Association for Commuter Transportation
David has the honor of serving as the Executive Director of the Association for Commuter Transportation (ACT), the premier organization for the Transportation Demand Management (TDM) industry. With more than two decades of experience and leadership in the field, David brings a deep understanding and commitment to the issues and challenges facing TDM professionals and the organizations they serve.
On behalf of ACT's membership around the globe, David envisions a future where all people have access to an efficient and equitable multi-modal transportation system. He takes great joy in leading ACT's efforts to advance the careers of TDM professionals, strengthens TDM programs, and to advocate for effective TDM policies that will improve the quality of life of commuters and the livability of communities.
David is a member of the Transportation Research Board's TDM Committee and serves on the Advisory Board of the National Institute for Transportation and Communities.
A native of Oregon, David has a degree in Community Development from Portland State University and received a Certificate in Non-Profit Management and Leadership from Boston University. He lives in Massachusetts with his wife, three children, and a varying number of chickens.
Panel - How Are Elected Officials Working to Improve Central Texas Mobility?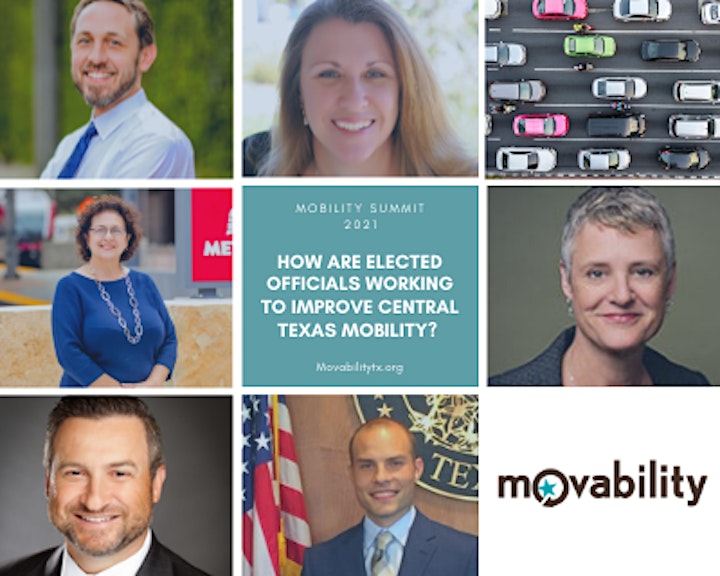 Judge Andy Brown - Travis County, Moderator
Andy Brown serves as the Travis County Judge. He looks forward to making Travis County a safer community by investing in access to health care, including mental and behavioral health resources, and by improving access and transparency for county services.
Most recently, he served as finance director and senior advisor to Senate and Presidential candidate, Beto O'Rourke. Having worked extensively in Democratic politics in Texas, Brown served as a legislative aide to former Texas Speaker of the House Pete Laney and as campaign manager for Congressman Lloyd Doggett. He also served as the Travis County Democratic Party Chair from 2008 - 2013 where he helped dramatically increase voter turnout in 2021 majority minority precincts in East Travis County.
State of Texas Senator Sarah Eckhardt - District 14
Senator Eckhardt has deep roots in Central Texas and deep commitment to improving opportunity for all Texans. From 2015-2020 she served as the Travis County Judge presiding over the Commissioners Court and representing 1.3 million people. She is now the State Senator for Senate District 14, which encompasses most of Travis County and all of Bastrop County.
Eckhardt's public service experience includes emergency response, health care, workforce and economic development, criminal justice, water policy, budget and finance. Some of her previous accomplishments include curtailing the spread of COVID-19 in Central Texas through early and decisive region-wide orders, preserving more than 30,000 acres of green space, building a multi-county collaboration for the preservation of groundwater, maintaining a vibrant construction economy while raising safety standards for workers, establishing a Travis County Public Defender's Office, and instituting jail and arrest diversion programs that support justice and public safety.
State of Texas Representative Celia Israel - District 50
Elected in January 2014, Celia Israel represents House District 50 in the Texas Legislature. She serves on the House Committee on Insurance and the House Committee on Culture, Recreation & Tourism. During her time in the legislature, Rep. Israel has championed legislation protecting voting rights, investing in transportation infrastructure and improving safety, and supporting LGBTQ youth.
Rep. Israel has served on numerous boards and committees focused on multimodal transportation, food scarcity, and empowering the next generation of female leaders. During her first term in the legislature, she was named Freshman of the Year by the Legislative Study Group, a Champion of Equality by Equality Texas, and a Progressive Champion by Progress Texas. In 2018, Rep. Israel was inducted into the Austin Women's Hall of Fame.
Rep. Israel is a licensed Texas Realtor who lives with her long-time partner, Celinda Garza, and their dogs, Pippa and Libby, in Northeast Travis County.
Commissioner Cynthia Long - Williamson County Precinct Two
Commissioner Long has been active in the community since moving to Williamson County in 1988. She was elected twice to the Cedar Park City Council, during which time she served as Mayor Pro-Tem, and also served on the Cedar Park Planning and Zoning Commission as well as the Round Rock Medical Center Board of Directors.
Commissioner Long served on the Williamson County Metro YMCA Board and was the founding Chairman of the Twin Lakes Family YMCA. Commissioner Long was also the Vice Chairman of the Williamson County Republican Party for three years. Additionally, Commissioner Long was appointed to and currently serves on the Board of the Directors for the Cedar Park Regional Medical Center.
Mayor Travis Mitchell - City of Kyle
In 2015, Travis took an interest in local politics. By focusing on media-based community engagement, Travis developed skills in photography and videography before launching "The Our Kyle Project" where he created content to help bolster the community image. This project ran concurrently with a successful campaign to win an at-large seat on the Kyle City Council (fun fact: the original race ended in a tie).
In 2017, after selling the retail portion of his business, Travis campaigned and successfully won the office of mayor of Kyle. He now works with his council colleagues to implement business-friendly policies that center around Charles Marohn's model of Strong Towns. Together with the community and city staff, Travis is steadily executing on a vision to make Kyle, Texas a thriving city – economically, aesthetically, demographically, and culturally.
Mayor Craig Morgan - City of Round Rock
Craig Morgan was elected to serve as Mayor of Round Rock in May 2017. Prior to being elected to his current seat, he served as Councilmember to Place 1 from May 2011 through May 2017, and was selected as Mayor Pro-Tem in June 2016.
In 2020, Morgan was selected as the Round Rock Chamber's Citizen of the Year. That same year, he was awarded the Greater Round Rock Community Foundation's Innovation in Philanthropy Award. He was recognized for these awards for his leadership in spearheading the Round Rock Cares initiative, a public-private partnership to help small businesses at the onset of the COVID-19 pandemic.
Morgan received his undergraduate degree from Texas Tech University, an MBA from Southwest Texas State University (now Texas State University), and his law degree from the University of Tulsa College of Law. He is married to Amanda Morgan and they have one son, Garret.
Panel - An Interdisciplinary Perspective on Regional Mobility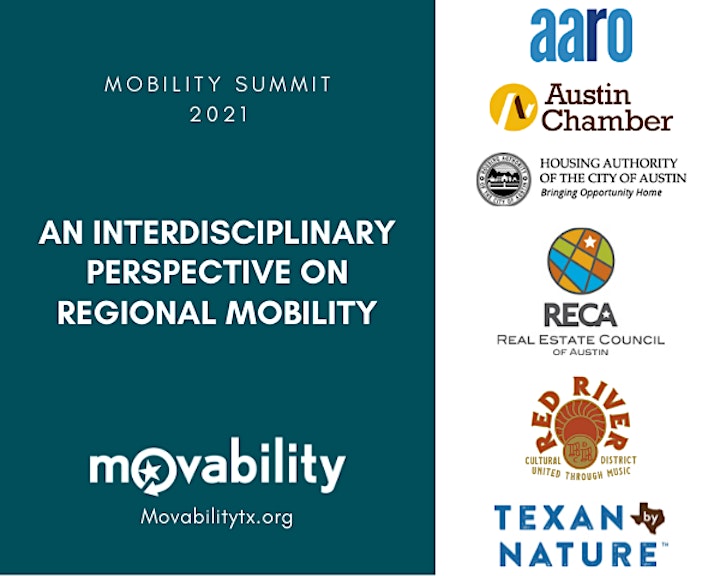 Austin Area Research Organization - Sandy Hentges Guzman (Chief Executive Officer & Movability Vice-Chair), Moderator
The Austin Area Research Organization is a non-partisan nonprofit organization of 110 business and civic leaders from Travis, Williamson, Hays, Bastrop, Burnet and Caldwell counties. Membership is intentionally drawn from throughout the region and the economy to bring diverse viewpoints to the table. AARO focuses on long-term challenges and solutions to enhance the economic and social well-being of all Central Texans. AARO also addresses more immediate issues with long-term implications.
Austin Chamber of Commerce - Matthew D. Geske (Vice President, Regional Infrastructure & Mobility)
The Austin Chamber is a nonprofit membership organization that helps create jobs so people can find work, provide for their families and achieve prosperity. The Austin Chamber invests in a broad range of programs that build, support, and diversify our regional economy.
Housing Authority of the City of Austin - Catherine Crago (Head of Strategic Initiatives)
The Housing Authority of the City of Austin (HACA) works to cultivate sustainable affordable housing communities and partnerships that inspire self-reliance, growth, and optimism. HACA envision neighborhoods where poverty is alleviated, residents are healthy and safe, and all people have the opportunity to achieve their full potential.
Real Estate Council of Austin - Geoffrey Tahuahua (Vice President of Policy & Government Affairs)
Established in 1991, the Real Estate Council of Austin (RECA) is a dynamic 501(c)(6) non-profit organization of more than 1,700 commercial real estate professionals representing the top leaders in the Central Texas business community. RECA's goal is to be an effective resource and advocate for the interests of the real estate industry and to promote and sustain the Austin region as an outstanding community in which to live. RECA believes all Central Texans should have the opportunity to find meaningful employment, affordable housing, and outstanding education within a clean and safe environment. Achieving a sustainable balance of economic, social and environmental interests is critical to the long-term vitality of our community.
Red River Cultural District - Cody Ross Cowan (Executive Director)
The Red River Cultural District (RRCD) is a cultural tourism destination and entertainment district located in downtown Austin, Texas.
The Austin City Council approved a resolution creating the district in 2013, followed by the Texas Commission on the Arts (TCA) designating the area in 2020 as one of the state's few formally recognized cultural districts. As a 501(c)(3) charitable organization, the RRCD is managed by the Red River Merchants' Association, which was first organized to preserve cultural tourism and later received its letter of determination in 2017.
Texan by Nature - Jenny Burden (Program Manager)
In 2011 Mrs. Laura Bush founded Texan by Nature to unite conservation and business leaders who believe our state's prosperity is dependent on the conservation of our natural resources.
Texan by Nature brings conservation and business together by amplifying projects and activating new investment in conservation which returns real benefits for people, prosperity, and natural resources. Texan by Nature achieves its goals through the Texan by Nature Certification program, Conservation Wrangler program, Symposia series, and Texan by Nature 20.