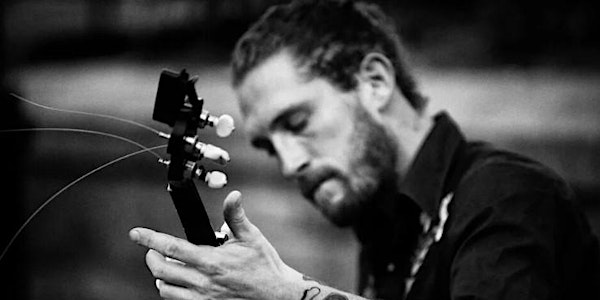 Morgan O'Kane
Morgan O'Kane's music is "to bluegrass and old timey what punk was to rock in the late seventies" Music, food and beer with a River view.
By The Chapel Restoration
Date and time
Friday, May 5 · 7:30 - 10:30pm EDT
Location
The Chapel Restoration 45 Market Street Cold Spring, NY 10516
Refund Policy
Contact the organizer to request a refund.
Eventbrite's fee is nonrefundable.
About this event
Restoration Roadhouse is an indoor/outdoor party with local craft beer and a food truck.
Morgan O'Kane plays the banjo as if his life depended on it, (as it has on many occasion) with an intensity that evokes a redeeming kind of sadness that will resonate with anyone ready to give it the space. Songs of heart break, hard traveling, and the love of friends, songs about the on going war humans wage against themselves and the earth. Originally from Virginia Morgan fell in love with playing music while living in nyc as a means to channel and express long years of travel and loss, fine tuning his unique style on the streets and subways. Ezekiel Healy (the bogs) joined Morgan whilst making his first album 9 lives in 2009, bringing his unique style of slide guitar to accompany and enrich the one man band sound. Healy, also from Virginia, self tought with a history of street performing, plays a national slide guitar more akin to Indian ragas then to blues, but with no less soul, adding an other world quality to the already out of this world sound of O'kane's banjo, howling, and drum. Currently Morgan O'Kane performs most often solo or with Ezekiel Healy, and on occasion with Mississippi fiddler Ferd Moyes ( hackensaw boys, Ferd band) who has accompanied him from the beginning, recording on all three albums. The trio have toured extensively around the world over the past decade, at times joined by J.R. Hankins on flugelhorn, Liam Crill on spoons, Hayden Cummings on base, and Leyla McCalla on cello.
The music is "to bluegrass and old timey what punk was to rock in the late seventies" (Ian Spafford / www.stirrings.org.uk) Deeply steeped in old traditions, O'Kane treats the banjo differently than you've heard it before and brings a punk sensibility to his music.
For the past handful of years, O'Kane has been actively involved in the Anti-Mountaintop Removal movement, and has aided the efforts of the Mountain Justice Organization. In fact, Morgan and band-mate, Sufi wizard Ezekiel Healy provided the score for Jordan Freeman's powerful documentary film, Low Coal, a must-see for anyone interested in issues of inequality and the affects of corporate and political decisions on the working class.
But like historical folk/blues predecessors Phil Ochs, Woody Guthrie, Reverend Gary Davis, Aunt Molly Jackson and the late Pete Seeger, among others, of course, transformative personal events are put to light, first and foremost…
For example, "Fiddler's Green" is a tune that pays tribute to fiddler/band mate Ferd Moyse IV's Freeport 36 sailboat, and the transcendent Carribean jaunt that O'Kane and his group of musicians took with the vessel a few years back. O'Kane says, "The song is about that trip—surrounded by the phosphorescence and the call of the sea bird, you remember loved ones in a different light." It points at how a shift in perspective could inspire a shift in perception.
Speaking of which, the new album features a noteworthy posse of music maker friends- Moyse IV, who also plays with the Hackensaw Boys; Healy on dobro; NYC brass band veteran J.R. Hankins on flugelhorn, and Liam Crill on drums, (Kings of Nuthin). NYC-based chanteuse Domino Kirke also guests on backing vocals for a number of the album's tunes.
The One They Call The Wind does owe a lot to Morgan's 2 prior album releases. 2010's debut LP, Nine Lives which was heralded by, among others, Woodsongs Old Time Radio Hour who quipped, "If Uncle Dave Macon married Bruce Springsteen their love child would be Morgan O'Kane" (the album also made MOJO Magazine's Top Ten playlist). And 2011's Pendulum prompted Dutch outlet, LUST FOR LIFE to say, "Morgan O'Kane is a phenomenon… raw and intense… he revives old heroes of traditional music while hypnotically channeling the heartbeat of the country. Fiercely, together with Ezekiel Healy, Ferd Moyse, Leyla McCalla as though they come from a deep and dark past of a not yet mapped out American mountain scene."