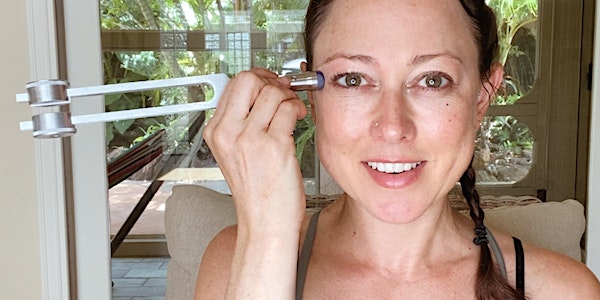 Monthly Tuning Fork Class
This is the first class in a monthly series that demonstrates the diverse uses for tuning forks. Jan. 14: Head, face and neck
Refund Policy
Contact the organizer to request a refund.
Eventbrite's fee is nonrefundable.
About this event
Tuning forks are frequencies found in nature and many of which overlap with the frequency of our own physiology. As we know from physics, everything vibrates. Using tuning forks in the biofield and on the body creates coherence, entrains brain waves and the nervous system, and just feels darn good. The first series of classes will be on face, head, and neck protocols. Vibrational tools can help move lymph, clear sinuses, and strengthen the immune system. This is a great class for anyone who wants to learn daily practices and be more versatile with their forks. Professionals, moms & dads, and natural healthcare and self-care advocates can all benefit from these techniques. As a certified practitioner in Biofield Tuning and Vibrational Fascia Release, I will show you how to use tuning forks as a daily self care tool.
Save $$ on Botox, go fork yourself!
Class requirements: It is recommended to have a weighted tuning fork, ie. 128Hz or 136.1Hz with a 15 or 25mm gem foot. I prefer the15mm and 25mm gem feet due to the size, the smooth feel, and the crystal properties: quartz amplifies frequency, amber reduces inflammation. Alternatively you can use a Sonic Slider from Biofield Tuning Store or any weighted fork for learning.
I recommend purchasing from a reputable and high-quality distributer. All forks are not created equal. This is why I use Biosonics or Omnivos forks. https://biosonics.com/faqs/
If you don't have a fork you can purchase through one of my affiliate links. It doesn't cost you anything and full disclosure, I receive a small commission to help fund my YouTube channel which offers free content in the form of tutorials and scientific research.
Mahalo!
https://www.lightbodyenergetics.com/tuning-forks
***This class does not teach you how to become a practitioner in Biofield Tuning or Vibrational Fascia Release Technique. If you would like to learn to use tuning forks and become a certified practitioner, you can get more info at BiofieldTuning.com or NEHC Academy or VFRT Costa Rica***