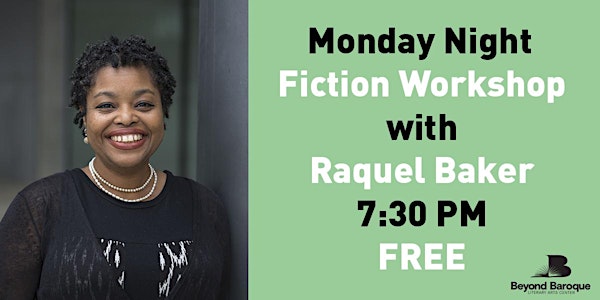 Monday Night Fiction Workshop
A community writing workshop in which participants are asked to bring 2-3 pages of fiction to read and receive feedback
About this event
A community writing workshop in which participants are asked to bring 2-3 pages of fiction to read and receive feedback. Facilitated by Raquel Baker via Zoom. Registration required.
Please spend some time before the workshop learning how to share documents via Zoom. It will keep the session moving if you're able to make your work viewable quickly and easily. Here's an instructive video that might help.
The workshop can sometimes reach high levels of attendance, which means not everyone will get a chance to read every session.
Zoom link will be emailed on the day of the workshop
Workshop attendees are expected to participate in a respectful, constructive, and considerate manner. Beyond Baroque reserves the right to remove individuals from our workshops, virtual or otherwise, if they are not respecting the space, fellow participants, or facilitator.
About the workshop facilitator:
Raquel Baker earned a PhD in English Literary Studies from the University of Iowa, specializing in Postcolonial Studies and 20th- and 21st-century African literatures in English, and an MFA in Creative Writing from Mills College. Raquel is currently an Assistant Professor of Postcolonial and Transnational Literatures at California State University Channel Islands, teaching courses on creative writing and contemporary African literatures. Raquel has published poetry in Africology and The Arrow; fiction in Enculturation, The Daily Palette, The Womanist, and Crux; and non-fiction in Little Village; and has done readings with the Ventura County Poetry project. Raquel lives for talking all things about the craft and social meanings of literature!