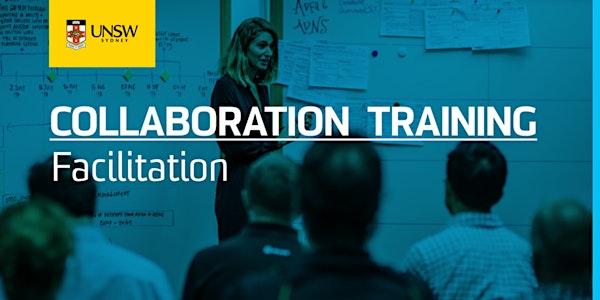 Date and time
Wednesday, June 20, 2018 · 1 - 5pm AEST
Location
UNSW Sydney Room G6, Blockhouse Building (G6 on map) Randwick, NSW 2052 Australia
Description
We live in an increasingly complex-, progressively changing and technology-driven world, where collaboration and co-design have become the new way of working and play an extremely important role to create effective solutions and organisational alignment. When done right it can truly create a stronger organisational DNA and drive accelerated outcomes.
The Collaboration Training Modules provide basics for collaboration and co-design that can uplift organisational capability towards the required skills of the future.

Module 3: Facilitation
The training for Facilitation provides fundamental skills and knowledge for successful group engagement, tools and techniques for effective facilitation.
Learning​ ​Objectives
Over the duration of the training course we will aim to achieve the following learning objectives:
Understand the role and responsibilities of the facilitator
Describe theories and models of how groups work and develop
Recognise the distinction between facilitation process and content
Observe and interpret difficult behaviour in groups
Use fundamental methods of intervening in groups effectively
Use a case study to practice the lessons learnt real life and share insights and experience
​Topics
1. Facilitation fundamentals: practical insight into the world of a facilitator
2. Role of the facilitator: do's and don'ts
3. Managing workshop process vs content
4. How to manage large groups and tricky situations
This training is part of a suite of Collaboration training modules that build on one another to provide basis for collaboration and co-design. Sign up to all!
What to bring?
This is an interactive module where you will be asked to use a real life topic / problem. Please come prepared with a topic / problem from your work that you would like to use to apply the theory.
Presenters
These modules are delivered by TwoCollaborate (www.twocollaborate.com), boutique consultancy that uses the power of collaboration to simplify complex problems, accelerate change and empower decision making.
Who should attend?
Open to all NSW-based SME's free of charge as part of the Boosting Business Innovation Program. Places are strictly limited.
What are my transportation/parking options for getting to and from the event?
Public transport is availabe to UNSW.
All day Parking is available on the upper floors of the Barker St (Gate 14) and Botany St (Gate 11) car parks.
Up to date Campus Map is available here http://fmtoolbox.unsw.edu.au/comms/KensingtonCampus.pdf
About the organizer
This course is sponsored by the NSW Department of Industry's $18 million Boosting Business Innovation Program through UNSW TechConnect. Find out more at 
www.techconnectglobal.com.au