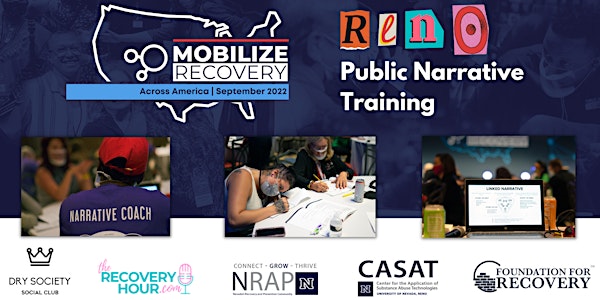 Mobilize Recovery Reno: Public Narrative for Connection, Power & Change!
Sharing Your Public Narrative for Connection, Power, and Change
When and where
Location
Renaissance Reno Downtown Hotel & Spa One Lake Street Reno, NV 89501
About this event
Join us in this experiential workshop to learn how to share your stories in powerful ways and use storytelling in your leadership. Over the course of this four hour training, Rosi Greenberg and Joseph Green will share a powerful narrative technique that enables you to share your Story of Self (why you are called to your leadership), a Story of US (the moments that bring our community together) and the Story of Now (what's urgent that needs our action, and the call to act together). This workshop is based on Public Narrative, the leadership practice taught by Professor Marshall Ganz at Harvard University, and is infused with life experience with recovery, finding resilience in mental health, and leadership. During our time together, everyone will write their own personal story, then work in small groups to practice, learning through experience and iteration in community. Through this narrative practice, we will connect and build the power we need to create change for recovery.
This year, we're excited to use storytelling to support your state's campaign goals. Every storyteller will have the option to receive coaching and film their story to participate in important legislative campaigns and call others to action. This workshop is for anyone who worries if they have a story, as well as people who have been telling their stories out loud for years, and everyone in between, including family members, people in recovery, and allies of recovery. Taught by Joseph Green, a spoken word artist, and Rosi Greenberg, a visual artist, both professional speakers and storytelling trainers with lived experience in mental health crisis and resilience. Previous participants at Mobilize have called this workshop "life-changing" and said it was "the missing piece and the confidence I needed" to file to run for office.
Note: You must be able to attend the full four hours to attend this workshop as the elements build on one another and go deep. We will have several breaks during the time.