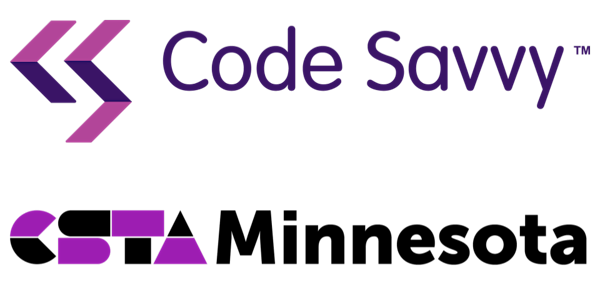 MNCodes K-12 Fall Computer Science Workshops
Join us for a morning of Computer Science workshops centered around K-12 CS Education!
Refund Policy
Contact the organizer to request a refund.
Eventbrite's fee is nonrefundable.
About this event
Code Savvy and CSTA MN are proud to partner to offer a morning of workshops centered around a variety of computer science education topics.
This event will feature 4 different workshops to choose from, or you can buy an all-access pass in order to have access to recordings from all the workshops. Each workshop is a deep dive into a CS education topic and lasts the full 2.5 hours. Workshops run from 9:00am - 11:30am, Central Time; please choose the workshop you would like to attend. You can purchase an All-Access Pass to gain access to recordings from all the workshops. Anyone interested in computer science education is welcome to attend - from Minnesota, and around the world!
CSTA MN Members qualify for a free ticket to 1 workshop! Current and new CSTA MN members will receive information via e-mail on how to claim your free ticket.
Sign up for your free CSTA MN membership today at: https://minnesota.csteachers.org/
Explore Code Savvy's Educator Training Program: www.mncodes.org
Participants will be able to choose from the following workshops (please choose only 1):
Integrating Computer Science Across K-12 Content Areas
Join us to explore methods for integrating CS across various curricular areas as a way to create access to CS for every student. We will start by discussing the 'why' behind incorporating CS. We will explore areas of overlap between the MN Academic Standards and CSTA standards, including computational thinking and impacts on community. Participants will collaborate to look for existing connections, and highlight areas where CS could enhance or extend the content curriculum. Participants will walk away with resources and connections to your current curriculum. This session is designed for educators with all levels of CS and integration experience - we will build in opportunities for choice and sharing to learn from one another.
Presenters: Sarah Carter, MN Dept of Education & Andrea Wilson Vazquez, Code Savvy
App Development & Design Thinking - In school, After school, or Anytime!
During this session we will explore how design thinking can create innovative, authentic, and human-centered problem solving experiences for learners of all ages. Participants will get a chance to work through the design thinking process of: observe, define, ideate, prototype, and test, as you prototype an app idea for a specific user. Next, you will take your ideas and generate an app in a platform of choice: paper, Google Slides, Scratch, or Thunkable. We will also hear from middle and high school youth participants of Code Savvy's TechnovationMN program, where female-identifying students work with a team and a mentor to create and pitch a mobile app that helps to solve a problem in their community.
Presenters: Ashley Goetz, Girls Who Code and Code Savvy, and TechnovationMN youth and mentors
Role Models for the Next Generation of Computer Scientists
Learn about major topics in computer science and the women who are doing great things in these areas every day! In this session, we'll walk through lessons that you can use in your class to highlight a diverse group of women in tech and explore computer science topics like machine learning, algorithmic bias, product design, entrepreneurship, and cryptography. Come ready to participate--we'll be watching videos, having discussions, and working through the activities in the lessons together!
Presenter: Megan Myers, A New Pipeline
Making CS More Engaging in an Interconnected World with NetsBlox [Asynchronous Recorded Workshop]
In this workshop, we present NetsBlox, a blocks-based programming environment designed to open student programs up to the internet. In doing so, students can leverage a myriad of different resources including Google Maps, Amazon Alexa, Twitter, New York Times, Azure Translation, and climate data from NOAA. Projects can also communicate with one another via the internet enabling them to build distributed applications including online, multiplayer games, chat applications, and mesh networks to name a few.
We will start with a brief overview of NetsBlox and then jump into hands-on activities where we will build an interactive weather map and a chat application from scratch. After, we will demo a few other exciting projects around cybersecurity, text analysis, and robotics. Finally, we will present some of our current work developing curricula around exciting topics including cybersecurity, machine learning, internet of things, and distributed computing.
Presenter: Brian Broll, Vanderbilt University
Gain access to recordings for all workshop sessions. You will receive an email with links and passwords to view recordings of all the workshops from the event.