Mitochondrial Dysfunction as a Universal Driver for Increased Health Risks: from COVID to COSMOS
About this event
We are delighted to welcome you to join us for this exciting meeting on the relevance of mitochondrial biology to multiple health states and diseases.
The goal of this meeting is to increase the awareness of the importance of mitochondria in disease initiation and progression, plus highlight the effects of unique environments on mitochondrial function and discuss what is needed to support the development of advanced diagnostics and sensors for bioenergetics that can monitor for disease onset and progression.
The meeting is split up into four sessions over two days with the following main topics:
1) Mitochondrial impact on immune function and inflammation
2) Impact of viral and bacterial pathogenesis on mitochondria
3) Mitochondria in space and other unique environments, and
4) Preventative and therapeutics impact on bioenergetics and mitochondria impact with disease progression.
The agenda is posted at the online event page HERE.
Details for joining the event will be posted on the online event page HERE shortly before the event. Only registered attendees will be able to view this page.
This meeting is jointly organized between:
The National Aeronautics and Space Administration (NASA)
The National Institute for Biomedical Imaging and Bioengineering (NIBIB) at the National Institutes of Health (NIH)
The National Center for Advancing Translational Sciences (NCATS) at NIH
The National Cancer Institute (NCI) at NIH
The National Institute of Allergy and Infectious Diseases (NIAID) at NIH
The Defense Threat Reduction Agency (DTRA) within the Department of Defense (DoD)
Meeting organizers (in alphabetical order):
Afshin Beheshti (KBR/NASA/COV-IRT)
Sonja Best (NIAID/NIH)
Lisa Carnell (NASA)
S Robin Elgart (NASA)
Dan Gallahan (NCI/NIH)
Lucie Low (NCATS/NIH)
Heather Meeks (DOD/Defense Threat Reduction Agency (DTRA))
Keshav Singh (The University of Alabama at Birmingham)
Dan Xi (NCI/NIH)
Steve Zullo (NIBIB/NIH)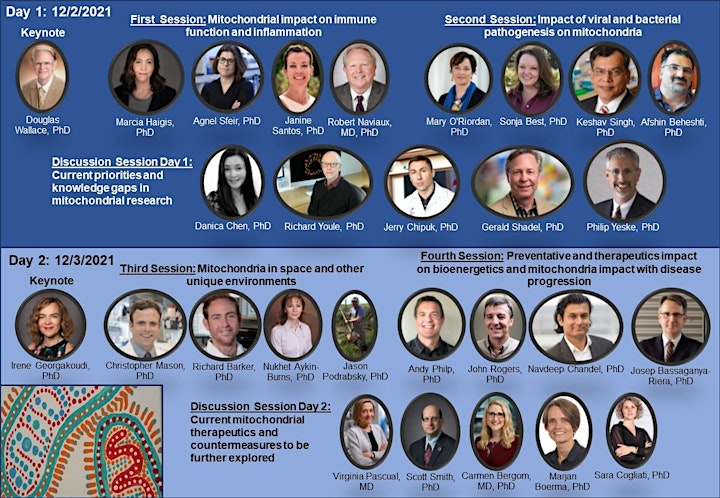 Organizer of Mitochondrial Dysfunction as a Universal Driver for Increased Health Risks