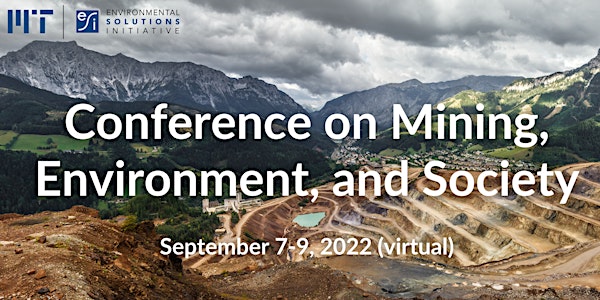 MIT Conference on Mining, Environment and Society
This virtual conference will examine environmental and social challenges around mining, and what stakeholders can do to address them.
About this event
MIT's Environmental Solutions Initiative (ESI) will host an online conference on September 7-9, 2022 on "Mining, Environment, and Society".
In the face of the urgent threat of climate change, economies are undergoing a transition from conventional to renewable sources of energy. What does this mean for the world's future resource needs? We can expect to see less extraction of coal and oil—but more mining of metals like lithium, copper, cobalt, and nickel, which come with their own social and environmental impacts. This conference will bring together social and natural scientists, policymakers, industry stakeholders, and environmental organizations to examine the nature of these conflicting challenges and explore opportunities to collaborate for solutions.
The event is one of a series led by MIT's Environmental Solutions Initiative to examine the environmental and social considerations of specific industries.
To promote dialogue and collaboration, registered attendees will have the opportunity to network in panel-specific chatrooms before, during and after the conference, will receive the complete registered attendee list, and presenters will have the option to upload their slides for the registered audience to view. Sessions will feature moderated Q&A. Session recordings will be made available to registered attendees after the conference.
There is a charge for attendance. Entry charges will fund the live video production of the conference and recordings, and post-conference research and publications.
The schedule is here. For more information, email us at esi-mine@mit.edu.
Foundational funding provided by Accenture. Additional funding provided by the Inter-American Development Bank. Media support provided by Mining Industry Professionals Network.
This workshop is part of MIT ESI's Mining, Environment and Society Program.