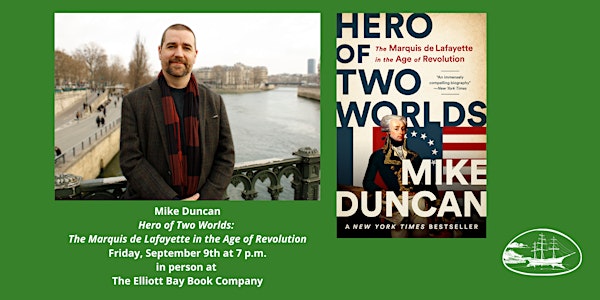 Mike Duncan, "Hero of Two Worlds" Book Event
Mike Duncan speaks about his book, Hero of Two Worlds: The Marquis de Lafayette in the Age of Revolution
When and where
Location
The Elliott Bay Book Company 1521 10th Avenue Seattle, WA 98122 United States
About this event
This program is scheduled to be live/in-person at Elliott Bay Book Company.
Podcaster Mike Duncan visits Elliott Bay tonight to speak about his bestselling book, Hero of Two Worlds: The Marquis de Lafayette in the Age of Revolution (now out in a new paperback edition from PublicAffairs). Hero of Two Worlds follows Lafayette in three revolutions: the American Revolution, the French Revolution, and the Revolution of 1830.
"[I]n an age of self-indulgent polemics, deranged conspiracy theories, and pervasive disinformation, to listen to Duncan while washing dishes or folding laundry is to believe that facts are knowable, that historical events of immense complexity can be made legible, and—to attempt to answer the question with which I started this review—that history is made neither by singular individuals nor by social forces, but by the idiosyncratic interplay of decisions within well-placed vanguard classes….This is the kind of detail-oriented storytelling that Duncan excels at."—The New Republic
Mike Duncan is one of the most popular history podcasters in the world. He is also the author of the New York Times bestselling book, The Storm Before the Storm: The Beginning of the End of the Roman Republic. His award-winning series, The History of Rome, remains a legendary landmark in the history of podcasting. Duncan's ongoing series, Revolutions, now in its 10th season, explores the great political revolutions that have driven the course of modern history.
This program is scheduled to be a live/in-person talk and booksigning at Elliott Bay Book Company.
Registration is optional.