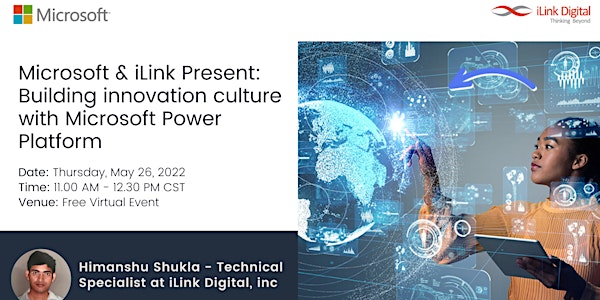 Microsoft Event: Building innovation culture with Microsoft Power Platform
Microsoft & iLink Digital jointly hosting a virtual event on "Building innovation culture with Microsoft Power Platform" on May 26th 2022.
About this event
A Center of Excellence (CoE) in an organization drives innovation and improvement and brings together like-minded people with similar business goals to share knowledge and success, while at the same time providing standards, consistency, and governance to the organization.
The Microsoft Power Platform CoE Starter Kit is a collection of components and tools that are designed to help you get started with developing a strategy for adopting and supporting Microsoft Power Platform, with a focus on Power Apps, Power Automate, and Power Virtual Agents.
Attend this event to learn: 
Benefits of Power Platform COE Starter kit
Introduction to various components of the starter kit
Backlog management and ALM
Date: May 26th, 2022
Time: 11 AM to 12.30 PM CST
Cost: FREE
Venue: Online
Host: Himanshu Shukla - Technical Specialist at iLink Digital,Inc.
For more Info: https://www.ilink-digital.com/insights/events/building-innovation-culture-with-microsoft-power-platform/
NOTICE TO ALL PUBLIC SECTOR OR STATE-OWNED ENTITY EMPLOYEES
– Federal [including Military], State, Local and Public Education. This is a Microsoft partner event. Should items of value (e.g. food, promotional items) be disbursed to event participants, these items will be available at no charge to attendees. Please check with your ethics policies before accepting items of value.