Meetup in SV: Deploying Kubernetes with kubespray
Description
Agenda:
5:00 - Doors open. Networking. Food and drinks.
Due to security concerns at the building we need the First and Last name - as on your government ID - to satisfy security requirements of our venue host. Thank you for understanding. Please take a moment to confirm your attendance: https://www.eventbrite.com/e/meetup-in-sv-deploying-kubernetes-with-kubespray-registration-46567366246?aff=Meetup
5:20 - Welcome.
5:30 - Talk #1. Deploying Kubernetes on GCP with Kubespray by Sergey Matykevich, Cloud Foundry Engineer at Altoros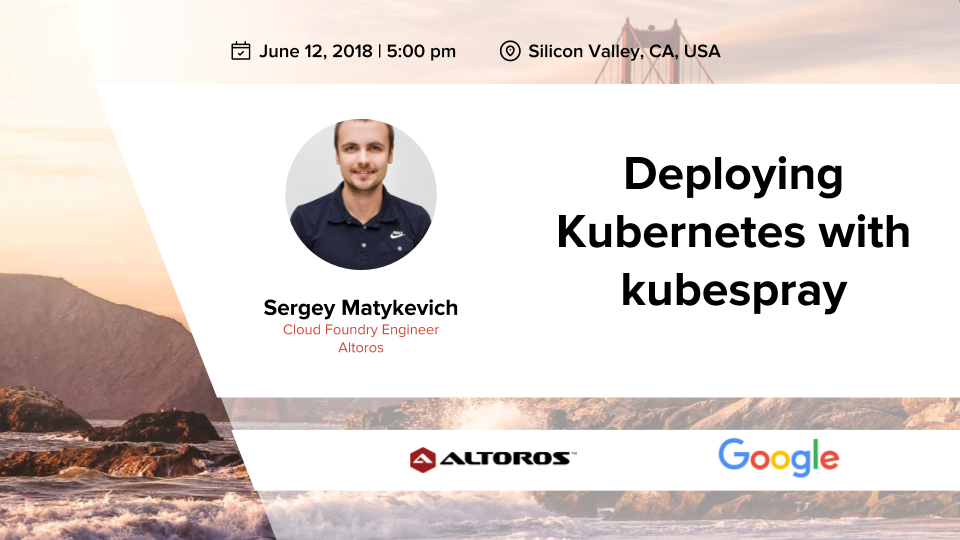 Description of the talk:
In this talk, we walk through using Kubespray to deploy a Kubernetes cluster on GCP. We also discuss customization and common operations.
Speaker's bio:
Sergey Matykevich is Solutions Architect at Altoros. With 10+ years in software engineering, he is an expert in cloud automation and designing architectures for complex cloud-based systems. An active member of the Go community and a frequent contributor to open-source projects (Ubuntu, Juju Charms, etc.), Sergey has authored a series of popular blog posts on Golang internals. He has also designed and delivered a range of training courses on Cloud Foundry, Kubernetes and cloud-native development for DevOps engineers, software developers, and architects.
6.00 - Q&A break.
6:10 - Talk #2. "Not Your Average Workloads" with Google Kubernetes Engine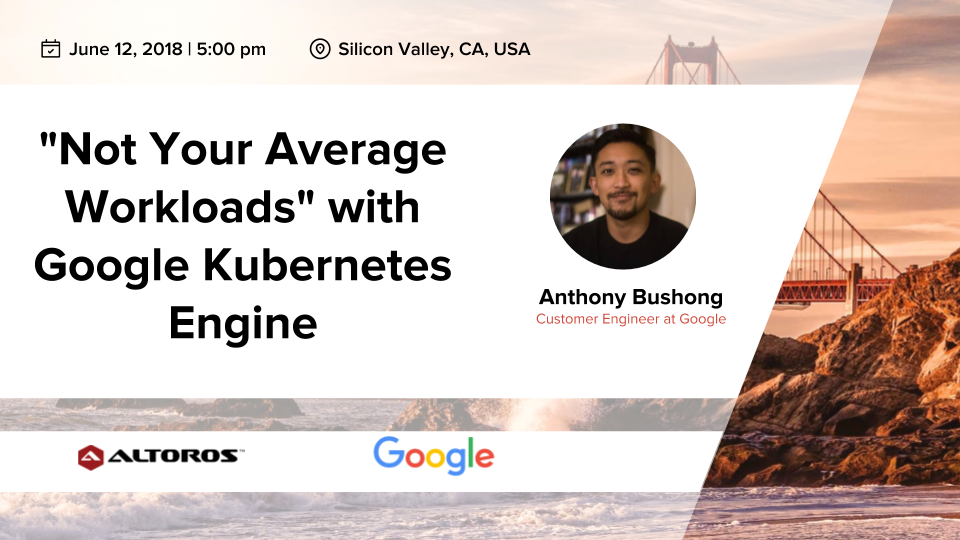 Description of the talk:
In this talk, Anthony will demonstrate how some of Google Kubernetes Engine's distinct features supports a wealth of workloads on Kubernetes.
Speaker's bio: Anthony is a Customer Engineer at Google Cloud Platform, focused on Application Development and Kubernetes. He has been working with customers to get up and running on GKE since K8s 1.3.
6.30 - Q&A break.
6:40 - Talk #3. Deploying Redis in Kubernetes by Dave Nielsen, Head of Ecosystem, Redis Labs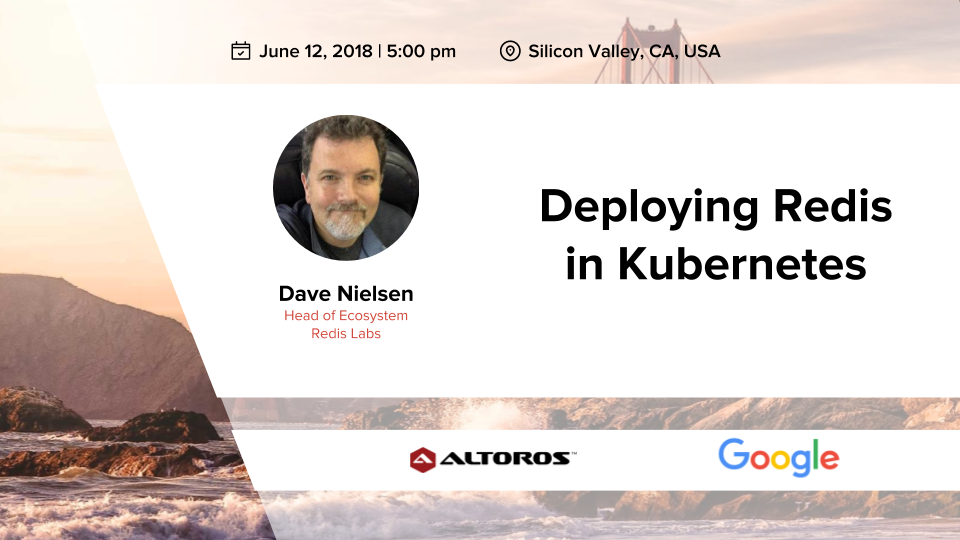 Description of the talk:
In his talk, Dave will explain and demonstrate how to deploy open source Redis in Kubernetes. As a part of the talk, Dave will explain the difference between deploying Redis as a single ephemeral instance, a cluster and High Availability. Dave will also demo Hydra, a Microservices framework based solely on Redis.
Speaker's bio: Dave is Head of Ecosystem Programs at Redis Labs where he leads the effort to engage with new, emerging technologies and partners. Previously, he was a Technical Program Manager at Intel for BigDL, a Deep Learning library for Apache Spark. He is also the co-founder of CloudCamp
7:10 - Q&A break and wrap-up.
Want to share your experience or sponsor/co-organize the meetups?
Fill in this form https://goo.gl/forms/cPUPbJHvLuFNVAkr2 or contact me directly.
Thanks to our sponsors:
Altoros (https://www.altoros.com/) - Founding Sponsor
As a Cloud Foundry Silver Member and Kubernetes service partner, Altoros delivers full-scale solutions for Fortune 500 enterprise companies, enabling them with resilient, highly available deployments and transforming the future of software development.
Google (https://www.google.org/) - Venue Partner
Google is an American multinational technology company that specializes in Internet-related services and products, which include online advertising technologies, search engine, cloud computing, software, and hardware.