Description
WARNING: THIS EVENT WILL BE SUPER SOLD OUT SOON!!! WE DO NOT ACCEPT WALK INS AND VERY SORRY THAT WE HAVE VENUE LIMITATION SPACE OF 400 PEOPLE. HOPE TO SEE ALL OF YOU GUYS THERE AND DONT FORGET TO PURCHASE THE TICKET FAST!
GRUPARA VENTURES Presents: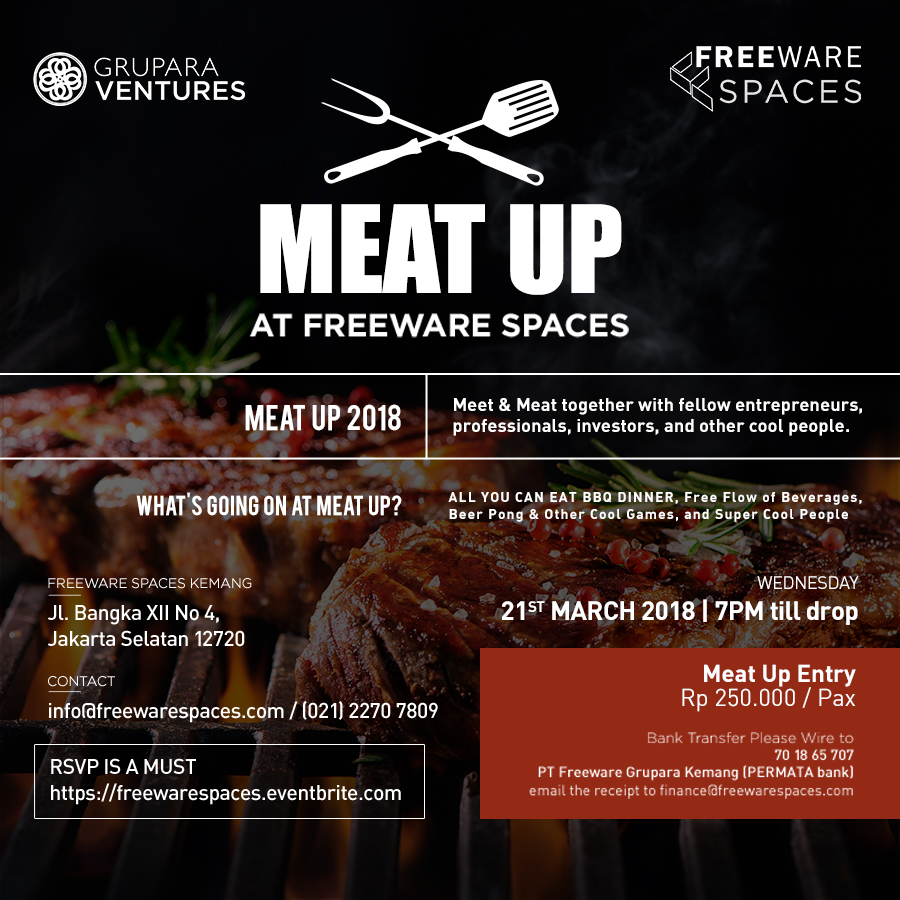 MEAT UP at FREEWARE SPACES
The BBQ Gathering Event hosted by Entrepreneurs, Profesionals, Investors and Any Other Cool People.
at FREEWARE SPACES Co-Working Spaces Kemang
Free Flow of Food & Beverages! Just Come, Eat, Chat, Network, and Have Fun!
DATE/TIME: Wednesday, March 21st, 2018 @ 07.00 PM
LOCATION: FREEWARE LABS KEMANG
Jl. Bangka XII No.4
Jakarta Selatan 12720
CP:
info@freewarespaces.com
or
Ivan Reza Rainir
ivan@freewarespaces.com
+628170052808
RUNDOWN:
18.00 - 19.00 : Registration, Networking, Pre-Drinks
19.00 - 21.00 : It's BBQ Time!!! Grill, Eat, and Chat!
21.00 - FINISH : Networking & End of Event
We had 500+ attendees at our last event. People from Bukalapak, Red & White Liquor, Kaskus, Anomali, Fabelio, Tiket, Voyej, Angel Investment Network Indonesia, Mbiz, Flipburger, Holycow! by Chet Afit, Ismaya Group, MRA Group, Kravelist, Venturra Capital, Blue Bird Group, Y Digital, Dagelan, JLL / Jones Lang Lasalle, Etobee, Qraved, Pazpo, Kalla Group, Forbes, Qerja, Jenius, Cyber Agent Ventures, Brodo, Puyo Dessert, CekAja, Goers, Ideosource, MNC Group, HappyFresh, Uber, SMDV, GDP Venture, Ematic Solutions, Twitter, Kudo, DailySocial, Techinasia, Wavecell, Ebay, Golden Gate Ventures, Quest Ventures, Kata.ai, Doku, Alpha JWC, AdPlus, Macallan, Kejora Ventures, Gojek, Art of Clicks, Tees.co.id, Printerous, Polka Cosmetics, Brillington Brothers, Global Founders Capital, Efishery, Mandiri Capital, Endeavor Indonesia, Bang Joni, Grupara Ventures, Maskoolin, Seekmi, Pazpo, Konserku, Wantedly, The Halal Guys New York, Prost Beer, Google, Twitter, MNC Group, Zalora, Lazada, Traveloka, and many more!
HERE ARE OUR PREVIOUS MEAT UP EVENT AT FREEWARE SPACES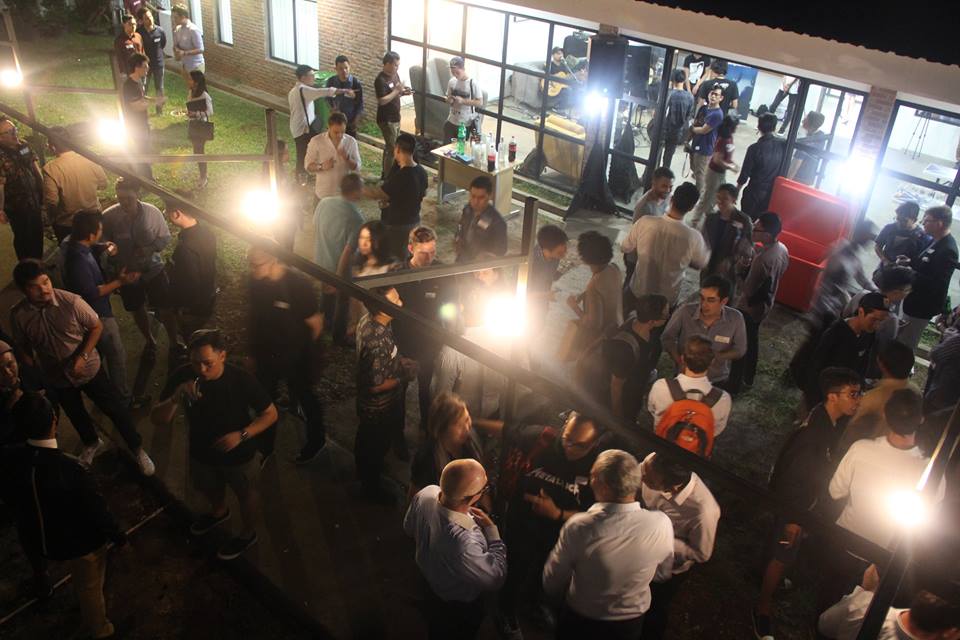 JENIUS X MEAT UP FREEWARE SPACES EDITION: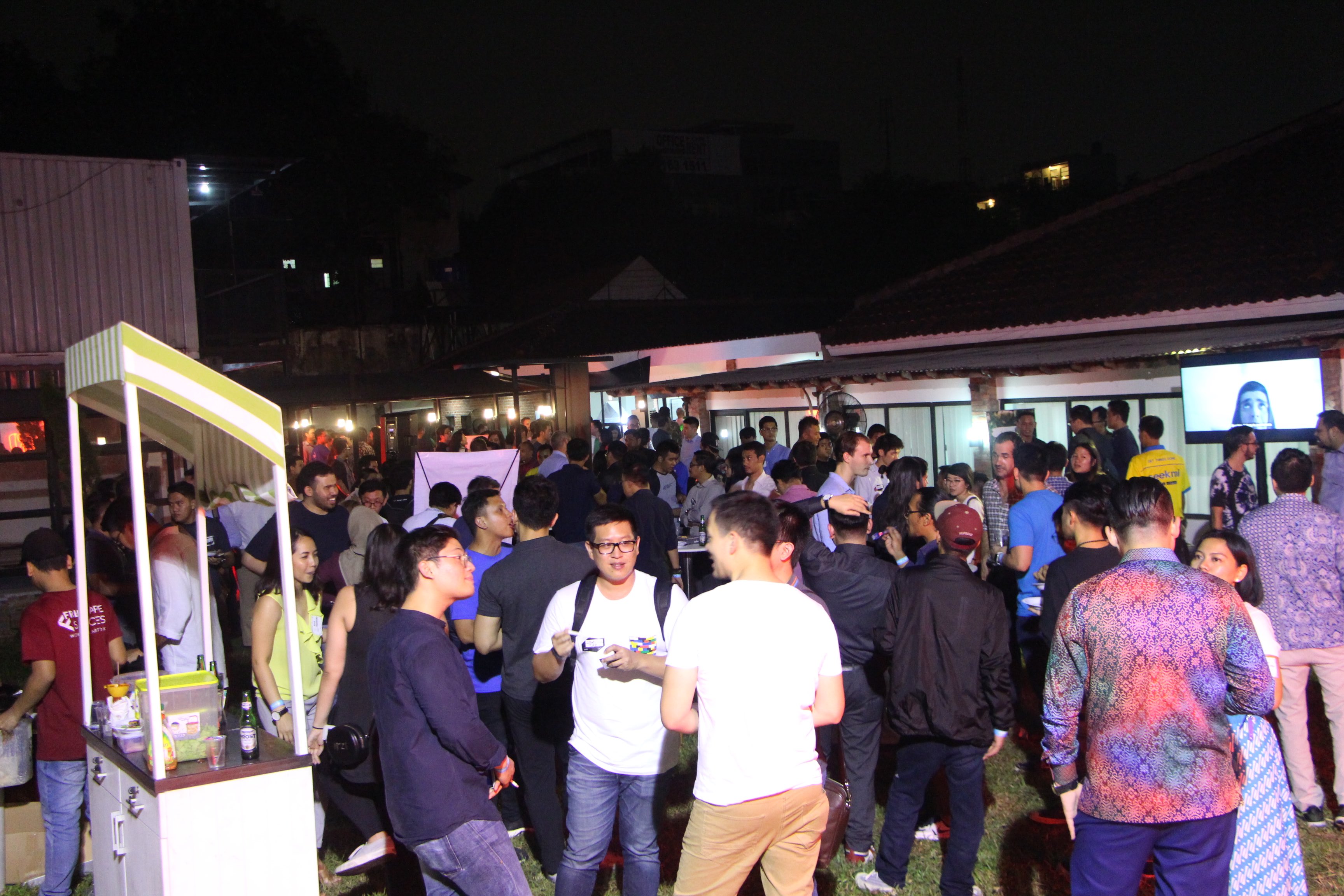 WE DO NOT ACCEPT WALK INS, PLEASE GET YOUR TICKETS THROUGH HERE OR BANK TRANSFERS, So We Could Prepare The Food and Drinks Accordingly.
BANK TRANSFER WIRE TO:
701865707
PT FREEWARE GRUPARA KEMANG (PERMATA BANK)
Please do email the receipt to FINANCE@FREEWARESPACES.COM
TRY WORKING AT FREEWARE LABS KEMANG FOR FREE ON THE DAY OF THE EVENT STARTING FROM 08.00 AM
For Details Please Do Email To: INFO@FREEWARESPACES.COM