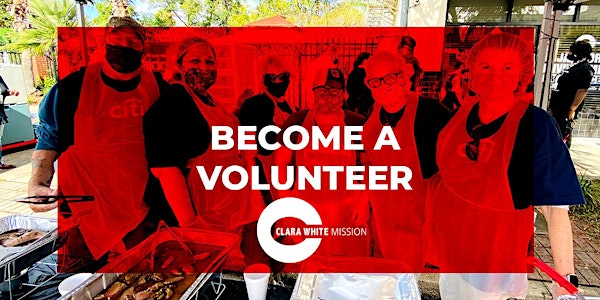 Meals2Go Feeding Program
Daily feeding volunteering at the Clara White Mission
When and where
Location
Clara White Mission 613 West Ashley Street Jacksonville, FL 32202
About this event
Daily Feeding volunteers assist with serving meals to those in need.
The Clara White Mission is a 119 year institution in the Jacksonville community. Known for feeding the homeless and with your continued help, we will continue to do that. Thank you for your time and caring hearts.
DRESS CODE / AGE REQUIREMENTS
While we no longer have Covid-19 procedures in place we do encourage volunteers to wear a mask based on their comfort level because of the population we serve.
Wear closed toe shoes, long pants, no torn clothing, no low cut tops.
Volunteering age / parental consent form. Youth age 15 and under must be accompanied by an adult. Youth 16 to 18 can volunteer on their own with the parental consent form available on arrival.
QUESTIONS
If you have any questions or comments about this particular event, we invite you to contact us. Feel free to email Carla Tinsley ctinsley@clarawhitemission.org or call at 904-354-4162 ext.1102.
CANCELING VOLUNTEER RESERVATION
If you wish to cancel your registration for this event, please contact us immediately. Contact Carla Tinsley, ctinsley@clarawhitemission.org.