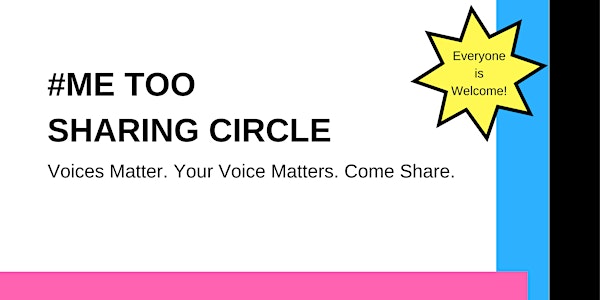 #ME TOO Sharing Circle
When and where
Location
Rogers Park Home - Address in Confirmation Email
Description
***Doors open at 6:30PM. Circle begins at 7:00PM.***

The #metoo movement has stirred up a lot of thoughts and feelings for many humans — women, men, and non-binary folks. Even though the social media hype has settled, now is the time to connect, bridge the gap, and try to understand one another.

PLEASE CONSIDER JOINING US FOR A SHARING CIRCLE.
We're bringing together a group of conscientious people who believe that changing the world can start with changing a small number of hearts, and that good will ripple outwards from there.

• Do you want to give voice to your story and experience?
• Do you want to change how our society treats women?
• Not sure where to start — or perhaps you don't feel like you can make much of a difference?
• Do you want to share your experiences honestly and freely, without interruption?
• Are you open to listening and learning about others' experiences?
• Do you want to change the "system" by first gaining understanding yourself?

WHAT DOES THIS ACT OF COMMUNAL SHARING ACCOMPLISH?

1.) Sharing your story, thoughts, opinions, and past is a powerful tool. It can bring catharsis, stimulate empowerment, and build trust with others.

2.) Actively listening to the stories, thoughts, and life experiences of others will give you a raw and honest look into them, creating an opportunity for understanding, reflection, and possibly changed actions.

3.) You will be heard.


HERE'S THE PLAN:
We'll begin by going over the circle format and come to an agreement on confidentiality. Then we'll sit in a circle around a "talking piece," and whoever feels moved to speak first will take the object in hand and talk. Everyone else will listen with the same consideration they'd want for themselves. When that person is done, they'll put the talking piece back in the middle, and the group will leave a moment of silence to let that first person's words settle in.

Whoever's next to feel inspired will take the talking piece and do likewise. We'll keep going until everyone who wants to has had the chance to share. There is no specific order, and no one will be forced to speak. Your presence as a listener is valuable in and of itself. After a first round, we can keep going, so long as people have the energy.

We'll ask participants to speak in terms of "I"… "I feel," "I've experienced," "I believe," etc. The goal is not to advise or to teach others; the goal is simply to share YOUR truth with everyone else. In turn, you are almost sure to be enriched from understanding other truths different than yours.

Let's start with one circle and see how it goes. If it's helpful to at least some people, we'll plan another. And then maybe more after that. And we'll teach others to hold even more in their own communities.

A QUICK NOTE TO MEN:
Feeling like you may get beaten up on? That is NOT AT ALL what this is about. This will be a safe space not just for women, but also for you, who have demonstrated the courage to make yourselves vulnerable and the desire for your mothers, sisters, daughters, wives, and female friends to live fully in our society.

We're out to change hearts, little by little. Come be a part of it.