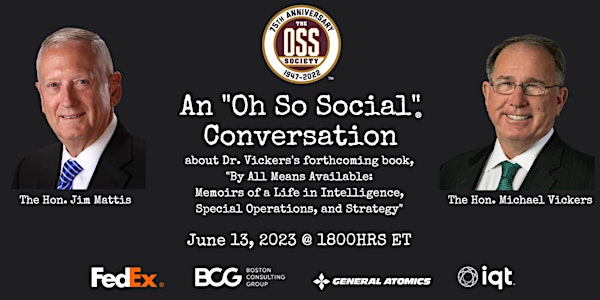 Mattis + Vickers: An "Oh So Social" Conversation
General Jim Mattis interviews Dr. Michael Vickers about his forthcoming memoir.
Date and time
Tuesday, June 13 · 3 - 4pm PDT
Refund Policy
Contact the organizer to request a refund.
About this event
General Jim Mattis interviews Dr. Michael Vickers about his forthcoming book. In By All Means Available: Memoirs of a Life in Intelligence, Special Operation and Strategy, Vickers recounts his remarkable career, from his days as a Green Beret to his vision for victory in Afghanistan to his role in waging America's war with al-Qa'ida at the highest levels of government. In captivating detail, he depicts his years in the Special Forces—including his training to parachute behind enemy lines with a backpack nuclear weapon in the event of a Soviet invasion of Western Europe—and reveals how those experiences directly influenced his approach to shaping policy. Vickers has played a significant role in most of the military and intelligence operations of the past four decades, and he offers a deeply informed analysis of the greatest challenges facing America today, and in the decades ahead.
Riveting and illuminating, this is a rare and important insider's account of the modern military and intelligence worlds at every level.
"Mike Vickers's amazing life story could easily be confused with a first-rate adventure novel. He tells it factually and deliberately, ensuring that we understand the context of his selfless service and many consequential achievements. And he tells it with humility, giving us some insight into the character of this most interesting and accomplished man." —Admiral Eric T. Olson, U.S. Navy (Retired), Former Commander, U.S. Special Operations Command
"Mike Vickers has written the best and most comprehensive memoir yet about American military special operations and CIA covert actions during the last decade of the Cold War and the generation-long U.S. war against foreign terrorists. From running the Reagan administration's war against the Soviets in Afghanistan to the killing of Usama Bin Ladin and beyond, Vickers was at the center of planning and implementing some of the most consequential secret presidential directives. His ability to think and plan both strategically and tactically was rare, but to add to that superb practical execution made Vickers a talent unique in the intelligence agencies and in the Department of Defense. From enlisted Green Beret to some of the most senior positions in government, Vickers saw it all, experienced it all. Readers of his memoir are in for a rare treat and a gripping story." —Robert M. Gates, Director of Central Intelligence 1991–1993 and Secretary of Defense 2006–2011
"In my over 50 years of public life, I have known only a few special people totally devoted to the challenge of protecting our country. Mike Vickers is one of those very special people. His experiences are without equal. But because he spent his life as a "silent warrior" most of what he accomplished is out of the public eye. He was always in the right place at the right time, providing essential courage, advice, and devotion critical to accomplishing the mission. He helped make our country safer. There is no greater legacy for a 'silent warrior.'" —Leon E. Panetta, Former Secretary of Defense and Director, CIA
About the organizer
The OSS Society is a nonprofit organization that educates the American public about the importance of strategic intelligence and special operations to the preservation of freedom.