About this Event
MATINEE!
Demand for this show has been overwhelming! So we've added one more show in the afternoon - see you there!
It's Christmas and that means it's time, once again, to travel back to everyone's favorite small town — Bedford Falls — where guardian angels are real and wishes do come true!
Come join us for a show of Christmas carols and live sound effects, as our ensemble cast brings to life the story of idealistic George Bailey, who spends his entire life giving up his dreams for the good of his town. This live 1940s radio broadcast is an adaptation by Tony Palermo of the beloved American holiday classic It's a Wonderful Life by Frank Capra.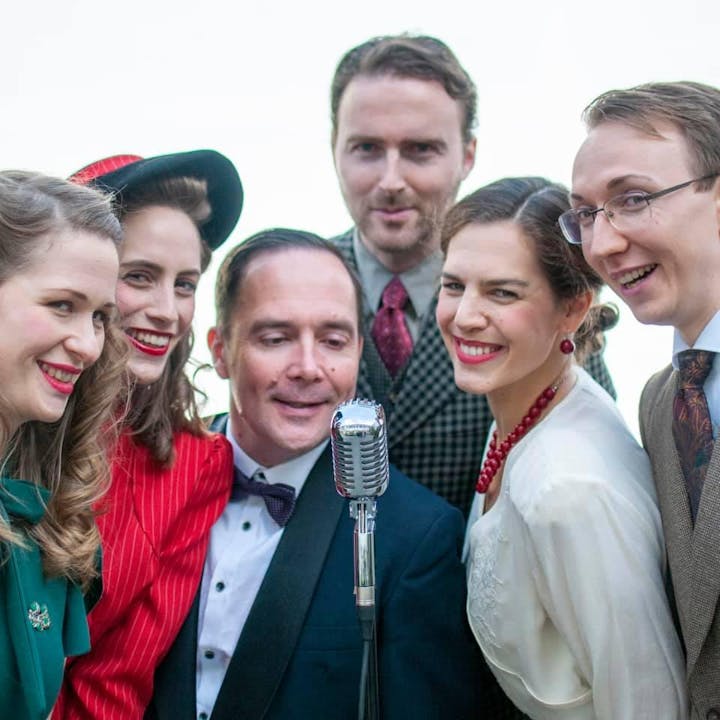 Our cast includes:
David Kinsella as John St. James playing George Bailey
Melody Rolph as Sharon Evanston playing Mary Hatch
Florian Riemer as David Stockdale playing Uncle Billy, Pop Bailey, and others
Jen Blastorah as Carol Nesmith playing Josephine, Violet Bick, and others
Mattias Carlborg as Robert Logan playing Mr. Potter, Nick, and others
-and-
Claudia Wonhöfer as Wilma Morrison playing Clarisse the Angel, 2nd class
Our live sound effects artists:
Katrin Fegert and Christine Fuss
And our wonderful choir!!
It's a Wonderful Life is Directed by Jim Nellis. Produced by Viviana Ghiglione and Bernd Plank.