Description
See full event details and 100% money back guarantee offer at: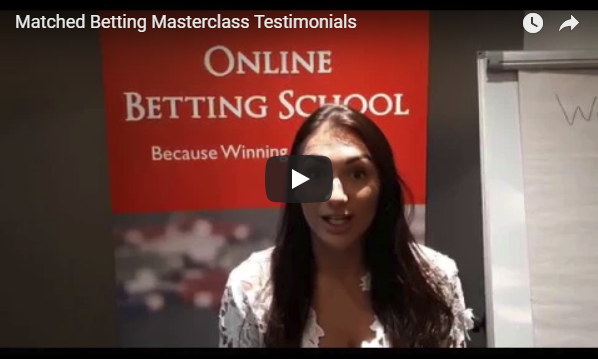 Dear Friend,
After a successful Matched Betting Masterclass back in October 2017, we are doing it all again and making it EVEN better this time! Come along to this life-changing event and get blown away by full-time earner case studies that will get you motivated like nothing before! It's a chance to be part of the largest gathering of matched betting enthusiasts that's ever taken place in the UK.
A chance to meet people like you, who love making a genuine extra tax free income each year. A chance to meet people who want to make more money online over the next 12 months than they did in the last 12 months from this genuine window of opportunity that is currently wide open.
A chance to make new friends and hang out with fellow enthusiasts to make your matched betting journey even more enjoyable… and profitable!
Are you up for it?
If you are, you have to be quick because there are genuinely very limited spaces available and tickets are selling faster than expected.
In this iconic event, lifelong friendships will be formed, secrets will be shared and most importantly, you will make much more money than it costs you to come along. It would effectively cost you more if you decide to miss out on this!
See full event details at: https://www.matchedbettingmasterclass.com/
Come along to the event and if you don't feel that you can make at least ten times your ticket price back before the next October 2019 event, then you can come and see me at lunchtime on the day and let me know so I can give your money back and we will part as friends. I offered the same guarantee last year and not one single person took me up on it and you can see why, by looking at the feedback forms that are scanned in and put at the bottom of this page!
This lets you try the event 100% risk free. I take all the risk so that you don't have to. It's a matched betting masterclass and I wanted to do everything in my power to make it a "Risk free bet" for you to buy your ticket right now and secure one of the limited seats available.
The reason that I feel completely comfortable doing this is that I know that this event can change anyone's life who is ready to take action and follow the blueprint that we go through at the event.
The only risk you really have is missing out on your place and losing it to someone else because you delayed your decision and didn't buy the first time that you visited the webpage. How many times does a genuine risk free opportunity come around like this? Not Often… Grab it now before you miss out and regret it.
The ticket prices will go up the closer it gets to the event as more tickets get sold. This is done to reward early action takers, like yourself ;)
Bonus – £50 Voucher When You Buy Today
Because most of you that buy a ticket to this event will also want to come along to The Laptop Lifestyle Bootcamp, I want to make it a complete NO BRAINER for you to buy your Matched Betting Masterclass ticket right now, this second.
Buy your ticket now and instantly get an e-voucher code that entitles you to £50 off The Laptop Lifestyle Bootcamp. Details below:
Name of Event: The Laptop Lifestyle Bootcamp
Where: Crown Plaza, Blackfriars, Central London (Same location as the Matched Betting Masterclass)
When: Saturday and Sunday, 13 & 14 October 2018
Imagine it now. It's the morning of Friday, 12th October 2018… You are walking into the Luxurious Crown Plaza hotel in London, knowing full well that you are going to make at least ten times your investment back from this weekend. It's going to be one of those weekends that you never forget. Positive, Profitable, Fun and Genuinely Life Changing. You instantly have that feeling in your gut that you have made the right decision and can't help but smile and feel great about life.
Seriously though… These two events combined make it three days that can genuinely change your life.
There will be nowhere else better to be on this planet during these three days because of the genuine life-changing potential.
Cancel everything and do whatever you need to do to be there. Whether you want to come for just the Masterclass on Friday or both the Masterclass and the Bootcamp to make it a long three day weekend
See full event details at: https://www.matchedbettingmasterclass.com/
Organizer of Matched Betting Masterclass
After being made redundant in 2008, I had a choice to make. I could have easily got another job and continued on the route to my "Bright" future that accountancy offered.
OR
I could try to make a full time living online. 
(Thankfully I chose the latter)
What was the key to my success?
Going to a live event. I took action. 
Four months after attending this event, I had my first £5,000+ payday. It was insane. I remember how I kept checking my emails to see payment notifications roll in one after another into my Paypal account. I want to give you the chance to experience this for yourself.
My vision statement for The Laptop Lifestyle is to help 10,000 people achieve the laptop lifestyle by December 31st, 2020. 
Will you help me achieve my goal and become one of these 10,000?